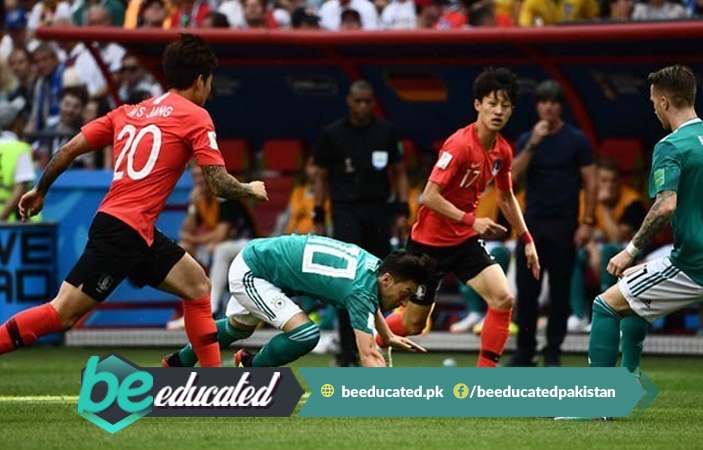 In Kazan, South Korea set the largest set up of the FIFA World Cup by defeating Germany, the defending champion, whereas score was 0-2 at the end of the game.

All the Action Was in the Extra Time

BeEducated.pk wants you to know it is the first time since 1938 for Germany, the 4-time World Cup Winning Team famous for its dominating defense, to get eliminated from the mega football event.

the German team had won the FIFA World Championship four times so far. But for the first time in 80 years, Germany is disqualified in the first round of FIFA Football World Cup. This was Germany's first ever defeat against an Asian nation in a World Cup match in what was their sixth such match.

The match was played in Russian City Kazan, Both teams could not benefit from the opportunity to meet for the scheduled time of 90 minutes and the competition remained unchanged.

Then South Korea scored the first goal in extra time, the team got the lead, followed by Kim Young Kwang in the 96th minute, which sealed the team's victory.

Remarks of Germany's Manager Joachim Low

German Manager Joachim Low said "I'm shocked. Shocked because we didn't manage to pull it off and beat Korea Republic and we lost this game. It wasn't my impression when I spoke to the team before that they were under pressure before the match because the Sweden game was on at the same time. Our team in this match was missing the ease of play and the classiness we normally display. Also the dynamism that led to the goal scoring opportunities was not there, so we deserve to be eliminated."

FIFA World Cup have succeeded in exciting football fans in even the non-participating countries like Pakistan. Because for the first time a Pakistani boy did a coin toss at starting of a world cup match, while Germany lost its position in the tournament and even Argentina is finding it hard to stay in the event. For more interesting news keep visiting our platform regularly.
Related News
---