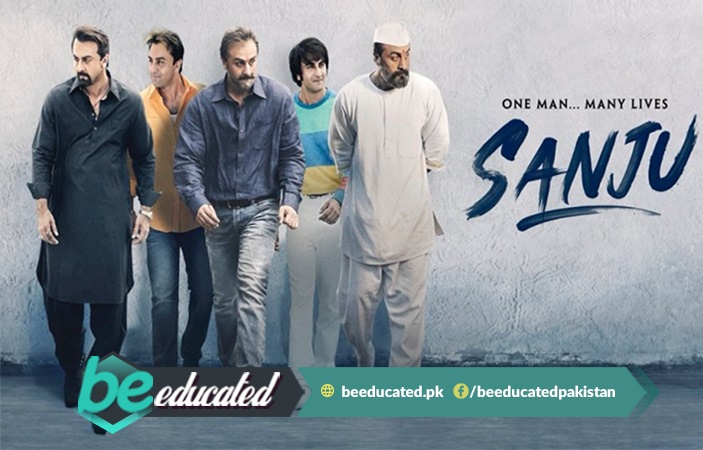 Sanju, the biopic of Sanjay Dutt, has turned out to be the most anticipated film for Bollywood fans this year. However according to news reports, Sanju has been rated '15' in the UK, which means it cannot be viewed by teenages under the age of fifteen in the Great Britain.

Indian Censor Board Allows Children Under 12 to Watch Sanju

While British Board of Film Certification has stopped the teen under age of 15 to watch the movie, the Indian Censor Board has allowed children under 12 to watch the movie under parent's/guardian's supervision.
BeEducated.pk found out that the British Censor Board gave reasons for not allowing non-adults under fifteen to view the movie saying, "(the film include) drug misuse, drug references and strong sexual references."

It seems strange as to why the film is allowed for the young children in India. However, the movie has been released today (on Friday June 29) in the cinemas all around the world including Pakistan.

Bollywood fans are extremely excited to see Ranbir Kapoor playing Sanjay Dutt's character in the biopic. Thus, movie critics have already predicted that Sanju will definitely become a hit.

Sanju Expected to Earn 30 Crores on its First Day

Sanjay Dutt's biopic is expected to smash all past box-office records, as the film is being considered a blockbuster already. According to news reports, trade analyst Girish Johar expects the film to earn 27 to 30 Crores on the opening day.

Girish Johar told the media, "Sanju is releasing on more than 4000 screens. Its advance booking started at a normal pace but it picked up later during the weekend. Now, due to Ranbir Kapoor's fan following, the young audience is going to fill the theaters. The Rajkumar Hirani film will expectedly do business of INR 27-30 crores on its first day. It might even find its place in the 100-crore-movie club in its opening weekend."

He went on saying, "With the elements of Ranbir Kapoor, Sanjay Dutt and Rajkumar Hirani all looks good for Sanju. Ranbir seems in his element in the biopic. Also, he is presently one of the biggest stars in Bollywood with various types of roles under his belt."

Sanju sheds light on the life of the Bollywood actor Sanjay Dutt and all his fortunes and misfortunes. The movie is highly recommended to his fans across the globe. For more news and updates keep on visiting.
Related News
---