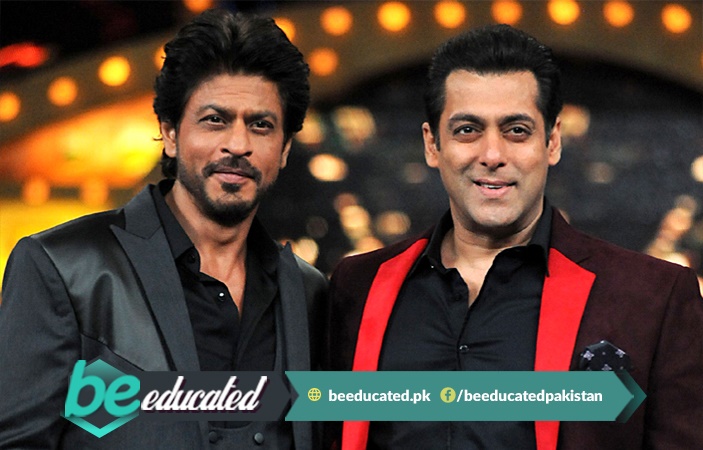 In Mumbai, Bollywood's King Shahrukh Khan will also appear in the final season of 'Dus Ka Dum' Hosted by Salman Khan the Dabbang Actor of Bollywood.

Shah Rukh Khan and Salman Khan's collaboration has always been the talk of the town. Now days Salman Khan stars are in twirl and its main cause is 'RACE 3' and Famous Game Show 'Dus Ka Dum' which was contrary to the expectations of the fans, In order to gain TRP of ' Dus Ka Dum' Salman Khan also casted Dr Gulati a character of famous Comedy Program 'The Kapil Sharma Show'. The Fans of the program much appreciated this effort. Now the shows administration has decided to invite Shah Rukh Khan to the show. Shah Rukh Khan and Salman Khan will twin down in the Finale Episode of the Show.

BeEducated.pk wants you to know that In the third season finale of Bollywood actor Salman Khan's famous game show 'Dus Ka Dum' will set four-moon with Bollywood King Shah Rukh Khan, while other actors also appeared in different episodes of the Show.

In the Finale episode, Salman Khan and Shah Rukh Khan will Mesmerizing entry on the Show. The shooting date of the finale episode is yet not finaled, the main reason is Salman Khan's Tour to abroad, As soon as Salman comes back to India, then there will be a final decision regarding this.



Salman Khan will appear in Shah Rukh Khan's new film 'Zero', Yes, he will share the screen with King Khan during a song whose teaser was released a few days back on the occasion of Eid. In Which Shah Rukh Khan and Salman Khan perform a short dance number that's playful and true to the former's signature style. And of course, fans of the two biggest Khans of Bollywood couldn't contain their excitement for the film 'Zer0'.
Related News
---