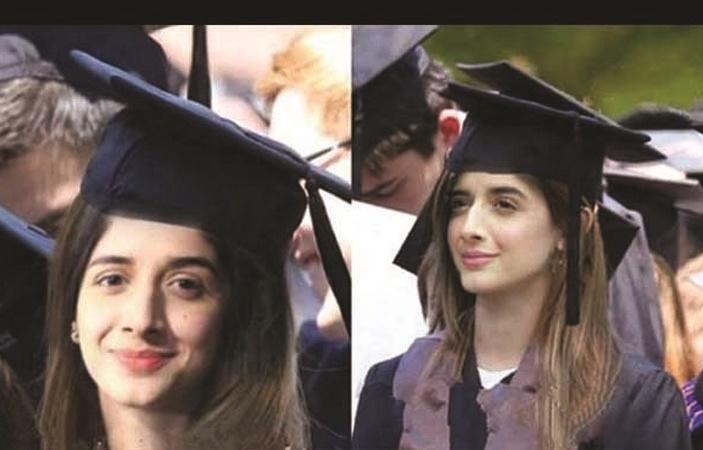 A few days back, Actress Mawra Hocane announced that she has passed her law degree. After which people are showing doubt and asking several questions on social media regarding Mawra becoming a lawyer.
Urwa Hocane Tweets About Mawra Becoming an Advocate
Actress Mawra Hocane has recently passed her LLB exams with 85 percent marks and she is very happy to get a distinction in law. At the success of her sister, actress Urwa Hocane was extremely happy that Advocate Mawra has earned 67 percent in Jurisprudence exam and 85 percent marks in Islamic law, she also mentioned how proud she was of her sister.
Also Read: "Maya Ali Receives Criticism for Copying Mahira Khan"

However, where Urwa is happy to see her sister pass her law examination, social media users cannot believe that Mawra Hocane has become a lawyer. On social media, various people have expressed doubt on the actress passing her degree fair and square.





A user on twitter named Aniqa Mujahid wrote, "How much money did you give to become a lawyer?" While another user supported Ms. Mujahid's views by commenting, "Yes, because degrees can be purchased through money."
There is No Limit to People's Rudeness
People only got ruder from there on as one user criticized Mawra for being an actress and talking about Islamic law by writing, "What does she (Mawra) know about Islamic Law?" At the same time another person commented, "Maura does not even know the name of Pakistan's Chief Justice."

Read News: "Deepika-Ranveer Marriage Date Finally Revealed"

On the other hand, many of her and her sister's fans only had words of congratulations for Mawra on becoming an advocate. As a user called Mawra "a beauty with brains" in his comment on Urwa Hocane's tweet.





Well, let's hope that she becomes as good of a lawyer as she is an actress, to quiet down all of her haters. While we think her fans will be sad to see her stop acting and practicing law full time. So, we will all have to wait and watch what's going to happen. Is Mawra going to remain an actress or become a full time practicing lawyer? Who Knows? For more entertainment news and updates keep visiting our platform on regular basis.
Related News
---