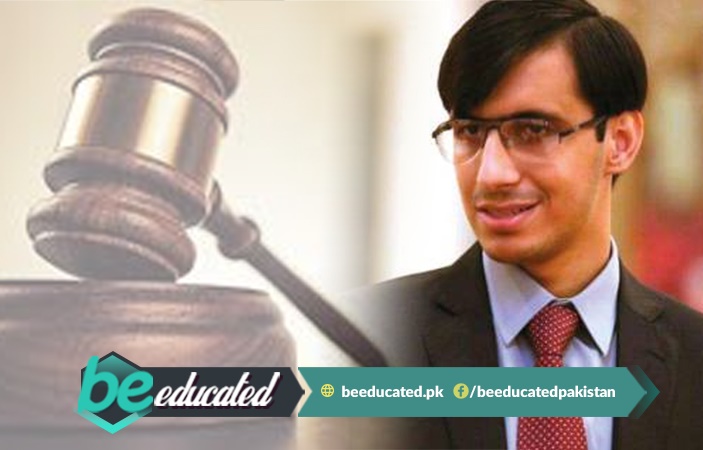 Yousaf Saleem has made history after taking an oath of civil judge and become Pakistan's first blind judge. According to news reports, visually impaired lawyer Yousaf Saleem became the first blind person to become a judge in Pakistan, after taking his civil judge oath on 26 June 2018.

Twenty other lawyers also took their oaths along Saleem for the post of civil judge. While Yousaf Saleem is the first blind person to become a civil judge in the country, still there are many examples of visually impaired judges in other countries.

Saleem Was Once Dropped for the Post of Civil Judge

BeEducated.pk found out that Saleem was once rejected the opportunity to become a judge due to his blindness but after the intervention of Chief Justice of Pakistan, Mian Saqib Nisar, he was reconsidered for the post.

CJP Mian Saqib Nisar is actively taking charge to solve various cases in the country, for which he is often seen in various news outlets. Recently, CJP has helped the transgender community by ordering NADRA to issue identity cards to transgenders.

The newly appointed blind judge, is a gold medalist of Punjab University in LLB (Hons), where he topped the written judiciary exam among 6,500 candidates. Firstly, he was interviewed and rejected for the post given his disability. But after the CJP took a suo motu notice, he observed that as long as a person meets all basic requirement he/she can be a judge even if they are visually impaired.

History Was Finally Made

Supreme Court press release said, "It appears in this (Yousaf Saleem's) case, his fundamental rights under Articles 9, 14 and 25 of the Constitution, the provisions of the UN Conventions on the Rights of Persons with Disabilities, ratified by Pakistan, three percent quota under the Disabled Persons (Employment and Rehabilitation) Ordinance 1981, and the jurisprudence developed by the Lahore High Court in PLD 2017 Lahore 406 and PLD 2017 Lahore 1 were not considered by the Lahore High Court."

Therefore on 12 May, Saleem received a letter from Lahore High Court stating, "You are hereby informed that Honourable Examination Committee for Recruitment of District Judiciary along with LHC Establishment has chosen you for appointment as Civil Judge."

Now Yousaf Saleem, who is blind by birth, have become first visually impaired judge of Pakistan. Saleem has four sisters and two of them are blind as well. Even they haven't stopped due to their disability, because one of them works as a deputy secretary in Prime Minister Secretariat while the other works at Punjab University as a lecturer. To get latest news keep on visiting our platform regularly.
Related News
---