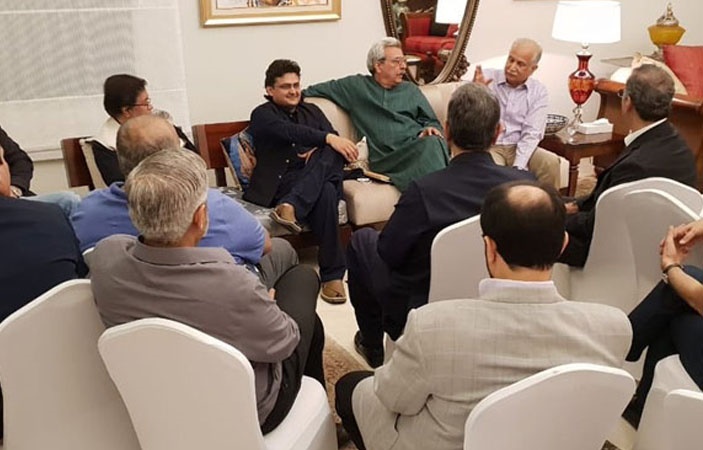 Pakistanis living in Dubai have gathered a large amount for dams fund after hearing Imran Khan's request to overseas Pakistanis to make donations for constructing mega dams in Pakistan.
Pakistanis Living in Dubai Raise $743,000
BeEducated.pk found out that in a gathering in Dubai, where Senator Faisal Javed Khan was also present, Pakistani expatriates have raised a large amount of 743,000 dollars for the dams' fund.


President Dreshak Group Mr. Mumtaz Muslim, who is also a close friend of the PM in UAE, tweeted that he held a fundraising event at his residence, which was attended by Senator Faisal Javed Khan, and they have raised $743k. While they will also raise the balance of $257k to make a total donation of 1 million dollars for the dams.

He especially thanked the Prime Minister Imran Khan and Senator Faisal Khan for coming to Dubai for attending the fundraiser.

In response to his message, Senator Faisal Javed Khan tweeted:

The senator's tweet gives a clear message that together we can accomplish anything and therefore we must work with another to bring back peace and prosperity to the nation.
Pakistan Can Face Famine by 2025
Recently, PM Imran Khan warned that Pakistan can face similar conditions to drought and famine by 2025, if dams are not constructed now. He said that dams are very important for the country and its future generations.

Also Read: Nawaz Sharif Sends a Message to Asif Ali Zardari Asking for Help

Thus, PM requested all Pakistanis living in foreign countries to donate at least $1000 each, especially from the Pakistanis that live in US and Europe. While he said our countrymen in other foreign countries should also contribute as much as possible.

He said that millions of Pakistani live overseas that can contribute in building dams, which will also help improve foreign exchange reserves that are almost empty. PM Imran Khan told the nation that if we have enough funds then these dams can be built within the next 5 years. To read more news on Pakistan's politics, education, sports and many other fields, keep visiting BeEducated.pk regularly.
Related News
---