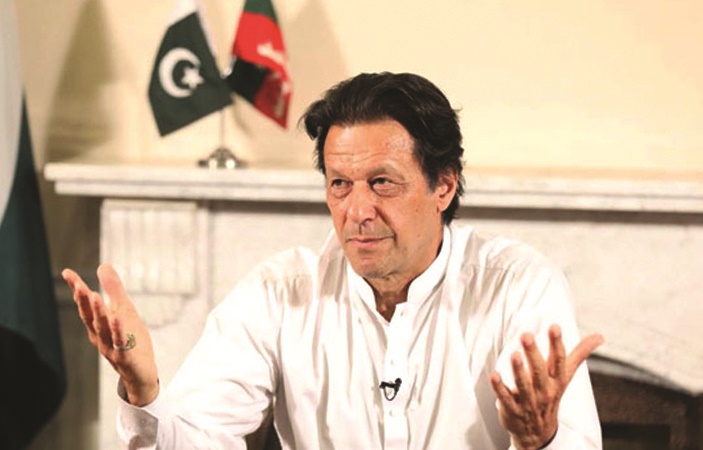 In Islamabad, Imran Khan Chairman of Pakistan Tehreek-e-Insaaf (PTI) has said that if anybody complaints about rigging, then we will fully cooperate and those constituents will be investigated. After Twenty-two years of struggle, He finally got the opportunity to fulfill his dream to build a new Pakistan.

Imran Khan Says in a speech that, Accountability in our government will start from me, then my ministers will be accountable, law enforcement will be established, no politician will be targeted because of political revenge. All policy will be made up for lower class and poor farmers, Prime Minister House Educational Objectives, All Governor Houses will be used for public services. The country governance will work like never before, we will prove that we can improve governance, Establish simplicity, reduce costs and money will be spent on the development and welfare of the public. Tax culture, anti-corruption, FBR and NAB will be given strength, help farmers to increase their production, all the money will be spent on Human Development.

I will spend on development Of Pakistan, promise to the public I will protect their tax money, The Prime Minister House is a mansion, living there will make me feel humiliated. The recent election was historical and profitable. 'I will change the tradition of living a luxurious life using public's money.

We will have to get rid of these problems, no one will come to solve our problems. We will focus on foreign policy, we want to build better relations with neighboring countries, the relations with China and Iran will be improved, and I want such relations from Afghanistan that the borders are open, Seeks balanced ties with America 'we will try to end battles in the Middle East'. India is going to deal with Kashmir dispute. "If Kashmir is ready for India, we are ready to talk, India will take one step forward, we will take two steps forward."

Imran Khan's Speech after Winning General Elections 2018

After attaining success in the general election, while addressing the nation on Thursday afternoon, Imran Khan said that I have seen Pakistan's Rise and Downfall. The system was corrupted and governance system was not better, I want Pakistan to become according to the Ideology of Quaid-e-Azam. He said that the person I adore is our Holy Prophet (PBUH), I want Pakistan to take such a welfare state as our Holy Prophet (PBUH) made. But in our state, this system is unlikely, where more than half of the population is below the poverty line. It is time to come into power and follow the Manifesto.

He said that all the policies in the country would be for the poor people and poor farmers. He said that our efforts would be to spend most of the money on antitrust development because no country can developed, where a small island is filled with rich people and the ocean is overcrowded by poor people. He said in the past three years I have gone through a lot of hardships and personal attacks, but I have forgotten everything, my aim is bigger than my own self.

He said that this will be the first government that will not take revenge against any political opponent. Those who will be against the law, the law will take strict actions against them, the law here will be equal for everyone. If anyone from us abides the law then, strict actions will be taken against him. He said that we will make strong institutions that will stop corruption. He said that there is no investment here because of our governmental system. He said that due to the inefficiency of institutions, our economy is down. He said that our biggest assets is Pakistan, the government does not invest here due to lack of governance and corruption, and they invest outside instead of making money over here. We will fix the governance system and bring back foreigners and investors abroad to the country and provide them an opportunity to invest.

Yet the invaluable rulers used to spend money of the public, on their palaces, overseas trips, but now it won't happen. We will use Rest Houses as Commercial, we will learn from China how to overcome corruption. He said that the Indian media made such a campaign against me that I am a Bollywood film's Villian but I think India and Pakistan relations should be improved, trade should increase in both the countries.

BeEducated.pk wants you to know that he will swore for the seat of Prime Minister on 14 August 2018.

Related News
---