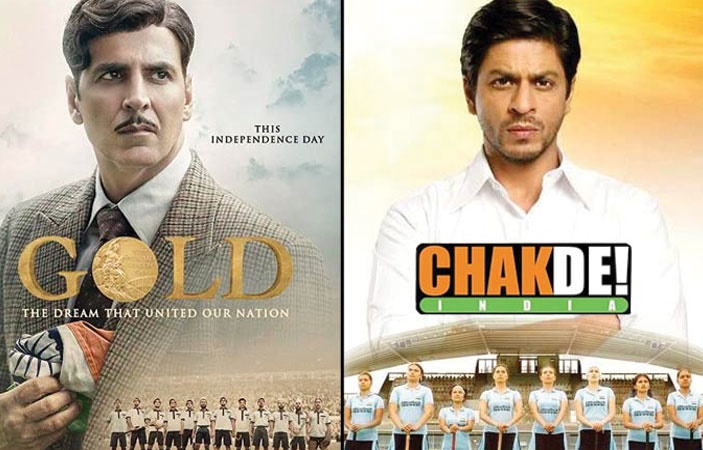 In Mumbai, Bollywood action hero Akshay Kumar responded to reporters after they compared him with Shah Rukh Khan.

Actor Akshay Kumar is busy shooting for the film "Gold" these days. In which he is playing the role of Hockey coach, who combines a scattered hockey team and plans to take them to Olympic, and he succeed in his purpose. The story of the movie and Akshay Kumar's role largely meets with Shah Rukh Khan's successful film "Chak De India". Shahrukh Khan also played a role of a hockey coach, "Chak De India", who brings his team to the World Cup.

During an interview, when Akshay Kumar was asked about the similarity of the story between the film "Gold" and "Chak De India", he replied, "I believe only doing a good film, The story of "Gold" and "Chak De India" is different. Akshay said it is useless to compare my movie and "Chak De India" so do not compete between the two. Akshay Kumar, referring to his role in the film, said that he is playing the role of a controversial person in the movie who cheats and drinks alcohol also, but within a year, he gathers 11 people, who make a team participate in the Olympics and get a gold medal, it is an extraordinary story near me, and that's why I signed the film.

Also see : Salman And Shah Rukh Khan Reunites

The director of the movie "Gold", Rima Kaggi, Akshay Kumar said about Rima, "The information about sports is highly appreciated and I slide them for their hard work."

BeEducated.pk wants you to know that the in the movie 'Chak De India' Shah Rukh Khan combines a scattered woman team by takes them to win the World Cup, the film was 2007 best movie, which was liked by fans.
Related News
---