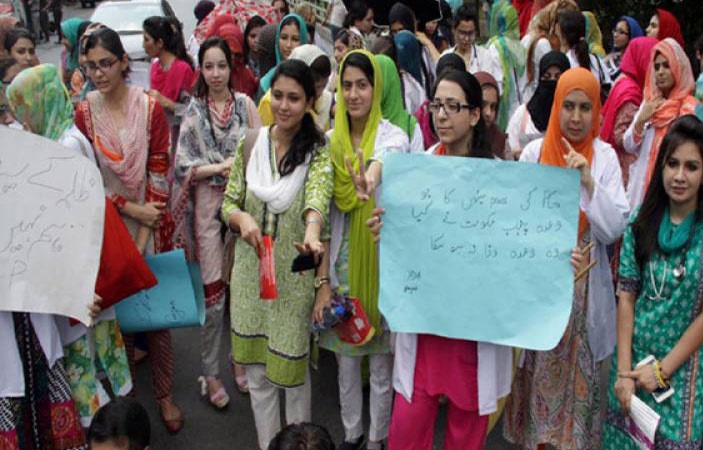 ISLAMABAD: On Monday, Doctors of Philosophy (PhD) who had graduated under the Higher Education Commissions' (HEC) programme, protested in front of the National Club, under the banner of the newly formed PhD Doctors Association (PDA).

Young scholars, highlighted their suffering, who are unemployed even after securing high educational qualification have censured the state institutions and government for not creating jobs sufficiently for them.

According to the association, they claims that there are about 400 young PhD scholars as the members, whereas there are five more scholars who have obtained their doctorates from abroad.

Many of the scholars held banners which were inscribed with the text on it as "the hardest work in the world is being out of work" and "unemployment is of vital importance particularly to the unemployed". Slogans with the motto like "we want jobs" were demanding the government and the court of apex for help to create permanent jobs for them. As the protester claims that they have completed the PhDs in chemistry, biology, physics, economics and agriculture.

The protest was viewed that while billion of rupees were spent on their studies, with no further planning to create jobs for the scholars either by the government or by the Higher Education Commission.
A protesting scholar, Dr Faheem Khan complained, "Around 30 to 40 percent of positions are lying vacant in universities, but the fresh graduates are not being accommodated".

He further added, "The HEC has been spending Rs5 million to Rs6 million on indigenous scholars and around Rs8 million to Rs10 million on foreign scholars, but there is no programme to create jobs for them".
The protestors had urged the government to take serious notice of this situation.

They have given time to the government until July 20th to accept their demands or else they will organize a peaceful protest throughout the country and in front of the parliament house.
Related News
---