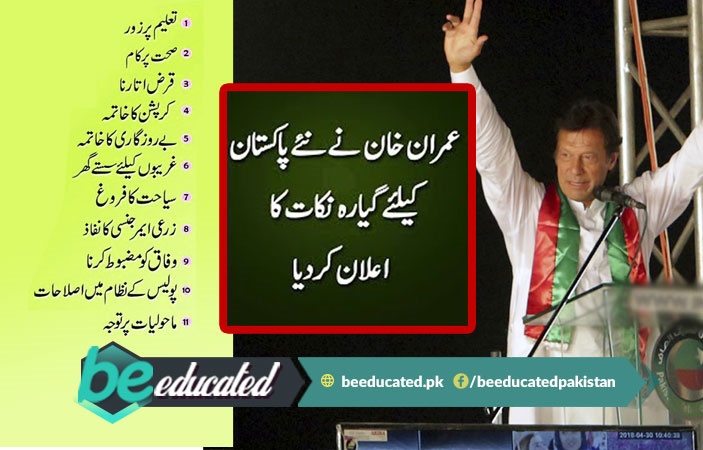 On Sunday, Pakistan Tehreek-e-Insaf (PTI) Chairman Imran Khan announced an 11-point agenda ahead of a general election due this summer.

While addressing his party's power show at Minar-e-Pakistan, Imran said, "I will make a Pakistan equal for all, (and) will rid Pakistan of powerful mafia that controls everything."

Addressing the rally, PTI chief thanked the participants for turning out in large numbers to witness the historic gathering. "Whenever I have called for you, you have never disappointed me," said Imran.

Speaking about the 11-point agenda to make 'Naya' (New) Pakistan, Imran said, "Now I will talk about my 11-point agenda today but before that I ask you, what do you ask from God in prayers?" Then answered the question himself by saying, "You ask Him to show you the righteous path."

BeEducated.pk brings you this news because Imran Khan heavily emphasized on Pakistan's education in his speech on Sunday, 29th April 2018.



Imran's 11-point programme

1. Addressing a huge rally, PTI chief said that no country can ever flourish without emphasizing on the education. PTI will establish educational institutions of international standards.

While promising to establish 20 new universities in the country, Imran said; "35 million children study in government schools. Half of Punjab's budget is being spent on Lahore [alone]. He openly questioned Shehbaz Sharif that how many international-level universities he has established"

"Countries don't flourish because of the roads and bridges, but when you spend on human development," Imran lashed out at the present government, adding that PTI will "invest maximum on the development of the people, (and) on one education system in Pakistan."

2. Imran Khan said his party gives a great importance to health sector which plays a major role for a healthy society, adding that if someone from poor family falls ill, it empties their pockets, so PTI will make health facilities available for all.

To a big crowd of people, Khan promised to introduce a health insurance system.

3. Imran Khan said his party would improve system of taxation in the country and will make economic reforms to make Pakistan a self-reliant country. He added, "We don't have money to run the country, we're under heavy debts. I claim in front of you today that I will show you how to gather money from our nation."

4. Promising to remove corruption from Pakistan, PTI chief cited the example of his decision to expel 20 MPAs from his party for "selling votes" in the Senate elections earlier this year, Imran promised the people he will make Pakistan corruption free.

"We will stop money laundering, we will strengthen the NAB and FBR," he added.

The PTI chief said that he will never let anyone steal the public finances while urging the nation to support him in his "war against the corrupt leadership" of the country.

5. Imran termed the overseas Pakistanis as the biggest investing potentials for the country and resolved to bring investments into Pakistan.

"We will reduce the tax on electricity and gas for our industries so that they could compete with Indian market," he said.

6. Promising the youth much better employment opportunities, Imran said that he would especially focus on boosting the tourism industry of Pakistan.

7. Imran said he would improve agriculture and the lives of farmers on 'an emergency basis.'
"They work for the whole year and get nothing in the end. They are being exploited by the sugar mill mafia."

8. The PTI chief resolved to strengthen the federation. "We know how the injustice is being done to smaller provinces. I know well about Khyber Pakhtunkhwa," he said.

9. Imran said the environment was a priority on the party's manifesto, adding that PTI will specially focus on Pakistan's tourism industry.

"For the first time ever, the Khyber Pakhtunkhwa government paid special attention to the environment," he said, adding that the party plans to plant 10 billion trees across Pakistan.

"We can even clean the rivers," he added.

10. He stressed the importance of justice and the police system.

"Our Khyber Pakhtunkhwa police is totally depoliticized. There's no victimization via FIRs, there not a single extra-judicial killing in the province while in Sindh Rao Anwar killed 400 people."

11. Imran Khan said that to educate a woman means to educate a family, adding that his party has an extensive program for women empowerment.

"Whatever I am today, it's all because of my mother who made me a patriotic person and raised me to be a truthful person."

Every one out of the three new schools in KP belong to women. "We'll strengthen them to access police help easily by making women police stations." He added that his party will legally bound people to give their women inheritance share which is their right.

Khan promised to establish a fairer society that will steer Pakistan towards a path laid out by the father of our nation, Muhammad Ali Jinnah.

PTI Vice Chairman Shah Mehmod Qureshi termed Nawaz Sharif and Asif Zardari two sides of same coin. Qureshi said voters have tried Sharif thrice but no change was seen and only Imran Khan and PTI are capable to bring the real change in people's lives. For more news keep visiting our website regularly.

Related News
---