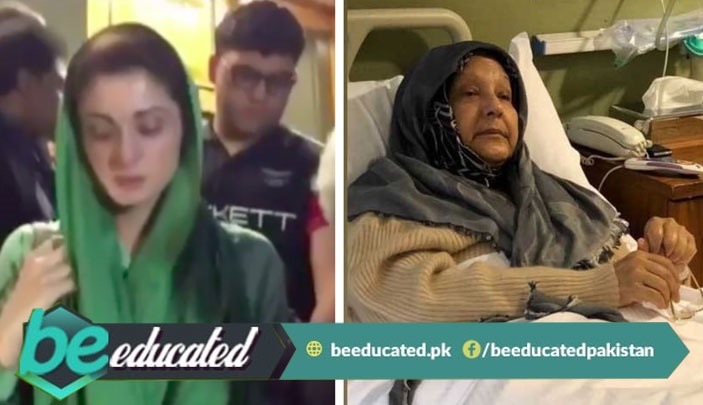 Last Thursday, Wife of former Prime Minister Begum Kulsoom Nawaz had a cardiac arrest after which she has been put on a ventilator for an indefinite time. According to news reports, the doctors moved Kulsoom Nawaz to ICU when her health deteriorated last night in a London hospital.

Nawaz Sharif's Wife is in Critical Condition

BeEducated.pk wants you to know that according to latest reports doctors treating former Prime Minister's wife have said that her condition is highly critical. While explaining this situation to the Sharif family, the five member doctor's board said, "Begum Kulsoom Nawaz will not be taken off the ventilator for now." While asking Nawaz Sharif to wait for another review of her condition at a later time, which has not been made clear.

Various sources said that doctors have told the Nawaz, Shahbaz, and Maryam Nawaz that Kulsoom Nawaz's condition is neither deteriorating nor improving at the moment. Talking to the media, Hussain Nawaz requested the people to pray for his mother's health and added that she will remain on ventilator for an indefinite time.

After holding a meeting today, the doctors at the Harley Street Clinic will brief the Sharif family on her condition. Kulsoom Nawaz was admitted to the hospital after having a cardiac arrest on June 14 and since then she has been on life support. After taking court's permission, both Nawaz Sharif and Maryam Nawaz reached London to tend to Begum Kulsoom on the same day.

Sharif Family Postpones their Return to Pakistan

Maryam Nawaz and the ex-prime minister have delayed their return to Pakistan, so they can stay beside their ailing family member. The decision was taken on doctor's advice to postpone their return to the country.
Earlier, the father and daughter planned to return on Sunday to appear in court for the corruption hearing on 19 June. But as the doctors cannot provide a fixed time period for Begum Kulsoom's recovery, they have advised the family to stay by her side.

Nawaz Sharif's counsels have submitted his wife's medical reports and doctor's letter with an exemption request to the accountability court of Islamabad. So, the former PM and his daughter can avoid any legal consequences of not appearing in court for their hearings. Recently, Chief Justice of Pakistan was angry at Shahbaz Sharif while presiding over a corruption case hearing, which will not help the Sharif Family.

For now, Begum Kulsoom Nawaz health condition is critical. As she was already undergoing treatment for throat cancer for over a year and now this cardiac arrest has made her health deteriorate even more. To get latest news keep on visiting our platform frequently.
Related News
---