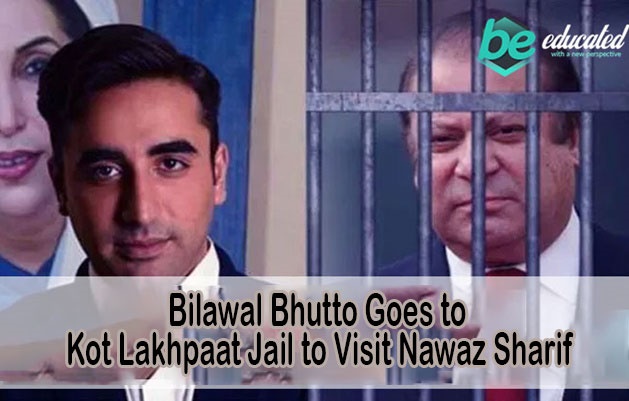 In Lahore, Bilawal Bhutto met Nawaz Sharif at the Kot Lakhpat Jail where he inquired after him and offered him best medical treatment in hospital of Sindh in view of his bad health.
Both the leaders agreed that they will give a tough time to PTI government both in and outside parliament with an effective COD. The Countries current Political situation came under conversation during the meeting.
A large number of supporters gathered outside the jail to receive the party chairman and shouted the slogans of 'Je aoo Bhuttoo!' as Bilawal Bhutto vehicle reached the jail gate. Nawaz Sharif welcomed and thanked Asif Ali Zardari and Bilawal Bhutto for the bouquet and their positive gesture.

According to Sources, Nawaz expressed disappointment with the act of Punjab Government and complained against the government that he is not given proper treatment is humiliated in the name of treatment, which is not acceptable.
The PPP leadership agreed that it was vital to implement the COD and both sides should work hard together. Later, talking to the media, Bilawal said that both Benazir Bhutto and Nawaz Sharif had signed the COD, it is time to review that document again.
Bilawal told reporters that the EX-PM was not looking well, adding that a heart patient could not bear stress and it was a kind of torture that he was given.

Meanwhile, Maryam Nawaz, through a tweet, thanked Bilawal Bhutto Zardari for calling on Nawaz at the Kot Lakhpat jail.
Related News
---