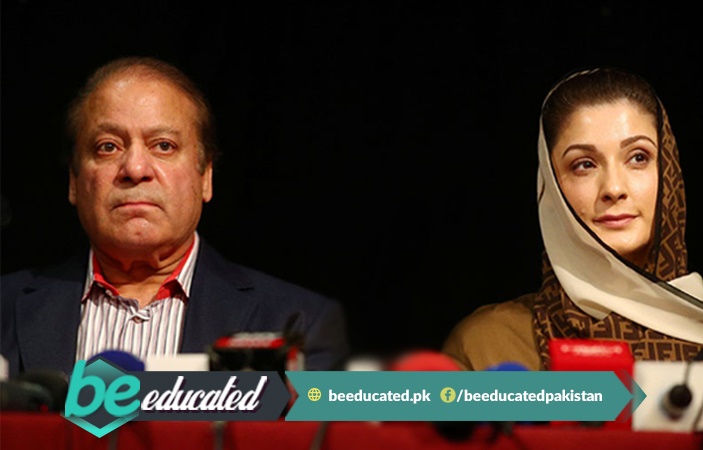 The judge of Accountability Court Muhammad Bashir has ordered former Prime Minister to be sent to Adiala Jail and his daughter Mariam Nawaz to the Sihala Police Rest House.

BeEducated.pk found out that PML (N) leader Nawaz Sharif and his daughter Mariam Nawaz, who were found guilty in Avenfield Reference case, returned to the country via E-423 flight private airline. As soon as their plane landed at Lahore Airport, the NAB team arrested them both and their passports were also seized.

Nawaz Sharif and Maryam were taken to Islamabad by a special charter aircraft after their arrest. Then they were transferred to Adiala Jail for medical examination, where a medical board comprised of four doctors from PIMS Hospital medically examined them. The panel of doctors compiled their medical history while declaring them healthy and fit.

After the medical examination Nawaz Sharif was placed in a high security zone room, while Mariam Nawaz was moved to the women's barracks. According to the jail sources, Nawaz Sharif will be assigned to B category in jail on the orders of Chief Secretary, but Nawaz Sharif can attain this category only after filing a petition. In this regard, the jail officials informed Nawaz Sharif about the standard operating procedures to acquire B class.

Al-Azizia and Hill Metal references will be held in Adiala Jail

According to Express News, accountability court issued a notification stating that now the remaining trial hearings against Nawaz Sharif in Al-Azizia and Hill Metal references will be held in the Adiala prison.

On the other hand, Justice Muhammad Bashir reached the Federal Judicial Complex where Justice Naseem Abbasi, head of the NAB Prosecution Team, was also present. However, media representatives were not allowed to enter the judicial complex.

Judge Muhammad Bashir ordered to send Nawaz Sharif to Adiala Jail and Mariam Nawaz to Sihala Rest House, while declaring Sihala Rest House a sub-jail.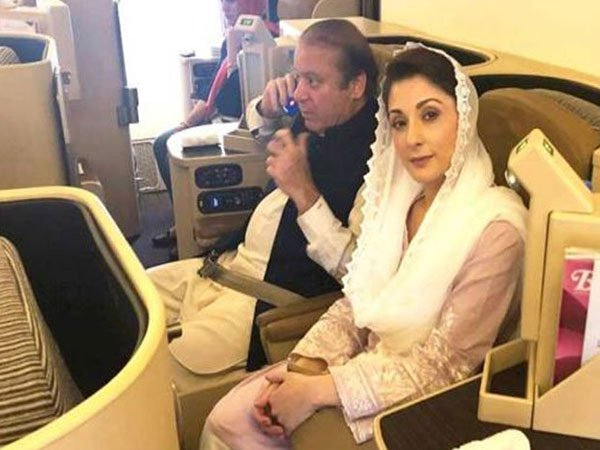 Earlier, Nawaz Sharif and Mariam Nawaz left for Lahore from London via Abu Dhabi, after a short stay in Abu Dhabi private flight was supposed to leave for Lahore, but the flight was delayed on which Mariam Nawaz said that in flight was delayed on purpose. Finally the plane took off from Abu Dhabi at 6 pm and landed at the Lahore airport on 9 pm.

During the flight, Mariam Nawaz shared the video message of his father Nawaz Sharif on social media in which Nawaz Sharif said that Pakistan stands on a decisive point, I am giving this sacrifice for your generations and for the future of Pakistan.



Preparations For Their Reception

Supporting the slogans of "Chalo Chalo Airport" (Let's go to Airpot) PML-N workers came to the airport in the form of a rally, while the league workers seemed passionate to welcome their leader.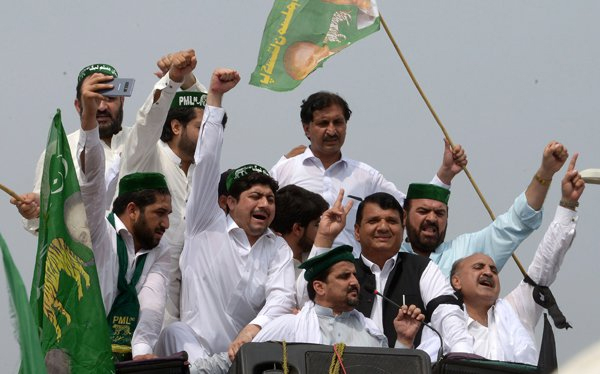 President PML (N) Shahbaz Sharif issued a video message, in which he appealed to the league workers saying that today is a historic day, we have to welcome our leader Mian Muhammad Nawaz Sharif in a splendid way as he is returning home from London after saying farewell to his wife, who is terminally ill.



Crack Down Against Pakistan Muslim League (N)

On one side, the PML-N workers were excited to welcome Nawaz Sharif, while on the other hand, a crackdown was in progress against PML-N workers in Ferozewala, Lahore. During the raid, Police arrested 50 suspects in the Shahdara Ferozewala factory area. The police also raided the houses of Awan Town UC 105 Vice Chairman Khalid Habib Khan and the counselor Chaudhry Khadim Hussain Gujar, while the vice president of the Muslim League Youth Wing Lahore Mian Zohaib Manzoor was also taken into custody.

Rawalpindi Police arrested several workers of PML (N) last night. In Faisalabad, police arrested more than 100 workers during the crackdown in the night. Police raided the house of Muslim League (N) leader Rana Ashfaq Chachu at Canal Park but he escaped. In Bahawalpur the police surrounded the former federal minister Baligh ur Rehman's house and closed all the doors while placing officers at all entrances.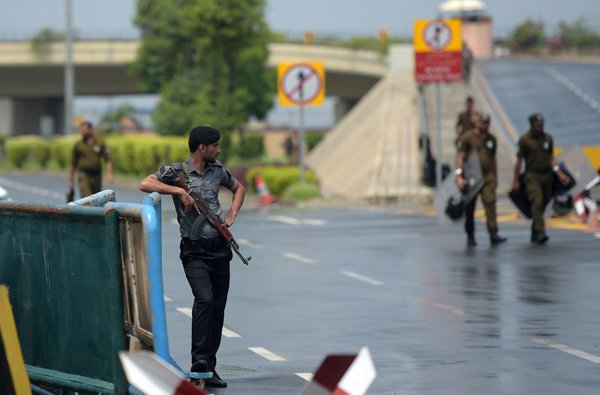 Security arrangements in Lahore City

Before the arrival of Nawaz Sharif and Mariam Nawaz, Rangers took control of Lahore Airport. Regarding the matter police said that the PML-N workers will be stopped from coming in to two kilometers radius of the airport. Police and Rangers were present on the Ravi Bridge to stop any unpleasant incident from happening.

Justice Naveed Iqbal said that Nawaz Sharif and Mariam Nawaz were to be arrested according to the warrants and strict actions had to be taken against anyone who stops their arrest.

Mobile Service Was Suspended for 12 hours

The mobile phone service was suspended in many areas of Lahore, due to which people faced severe difficulties. The interior ministry said Punjab officials suspended the mobile phone service for security purposes.

Earlier, the security officials sent a notification to the interior ministry, which said that due to security concerns mobile phone service will be suspended from 3pm to 11pm in the areas near Lahore Airport, Wald City, Shahdara, Barki Hadyara and Nawab Town Area.

Red Alert in hospitals

In case unpleasant incidents happened on Nawaz Sharif and Mariam Nawaz's return to the country, Hospitals were directed to be on Red Alert in Lahore. Also, Punjab Health Department advised Hospital managements to ensure the availability of medicines and blood in large amount.

Nawaz Sharif Requests His Mother to Pray for Them

Nawaz Sharif contacted his mother before leaving London, and he informed about their arrival to Pakistan. Nawaz Sharif's mother made special prayers for his son and granddaughter Mariam Nawaz besides that she also advised him to do a recitation of the Holy Quran before leaving his London residence.

Nawaz Sharif met his wife Kulsoom Nawaz in the hospital before departure from London. He put his hand on her head, while Mariam Nawaz could be seen crying as she was also present at her mother's bed side. For more news and updates keep visiting BeEducated.pk daily.
Related News
---