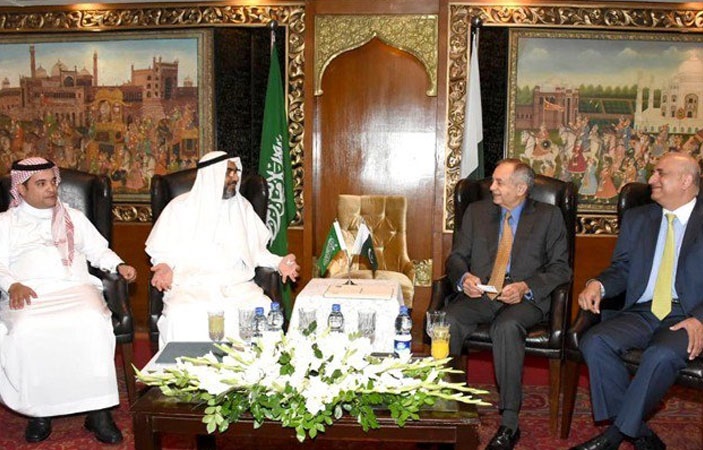 Saudi Arabia has shown deep interest in investing in Diamer Bhasha and Mohmand Dams.
Increasing Bilateral Trade Between KSA and Pakistan
In Islamabad, Advisor Trade Abdul Razak Dawood met with Saudi Arabia's Minister of Energy Ahmed Hamid Al-Ghamdi. BeEducated.pk wants you to know that during the meeting bilateral trade between Pakistan and KSA was discussed.

According to sources, the topic of providing various facilities to businessmen was considered along with gaining business visa easily to increase trade between the two coutries.

Read More: Government Increases Electricity Prices Once Again


Advisor Trade Abdul Razak Dawood invited Saudi Arabia to take full advantage of opportunities in the form of CPEC, saying that the volume of bilateral trade is low and it needs to be increased.

On the other hand, Saudi Arabia's Energy Minister Ahmad Hamid Al-Ghamdi also met his Pakistani counterpart Omar Ayub to discuss cooperation in the energy sector.

Sources say that in the meeting, Saudi Arabia had shown interest in investing in Diamer-Bhasha and Mohmand Dam. While Pakistan also offered Saudi Arab to invest in LNG plants during the meeting.
Saudi Arabia's Huge Investment in Petroleum and Energy Sector
On Monday, Minister for Information Fawad Chaudhary said that Saudi Arabia is showing deep interest in investing in the petroleum and energy sector.

Talking about the investment issue, he told the media that the amount of investment will be revealed during the next two weeks. While KSA plans on making huge investments in both the sectors.

More News: Shahbaz Sharif Cannot Get Hold of Public Accounts Committee Says Fawad Chaudhary

Discussing CPEC, he said that the PTI government has decided to expand CPEC projects in the region. As CPEC is a huge scale and highly valuable project to Pakistan so we will ensure transparency in all its projects added the Information minister.

Fawad Chaudhary said that we want to strengthen our relations with both Saudi Arab and Iran. He added we are focusing on economic ties with KSA, however economic relations with Iran are just as important for the region.

Talking about internal affairs, he said that PM wants to develop Balochistan and that Imran Khan will meet Baloch leaders in the near future to discuss his plans. For more political news keep visiting our website on regular basis.
Related News
---