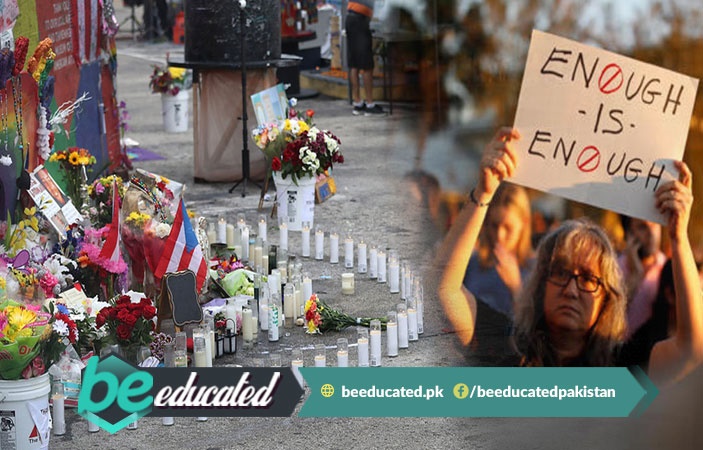 Bringing you updates on the Santa Fe High school mass shooting, which claimed lives of 10 people and left 10 or more people severely injured. BeEducated.pk has found out that the shooter who allegedly started firing upon people in a Texas high school studied mass shooting in the past before carrying out his attack.

ABC News has revealed that Dimitrios Pagourtzis, the 17 year old shooter, researched various ways used by other mass shooters. A source told ABC news channel that the attacker studied similar incidents in the past and used aspects of those (shootings) in his own attack.

10 Students and Educators Dead and 13 injured

The shooter has killed 10 students and educators including a Pakistani girl Sabika who was attending the high school through the Kennedy-Lugar Youth Exchange and Study Program. All Pakistanis are extremely shocked to find out that such terrorism exists in America. Because the student was arrested with three different deadly weapons at the time of his arrest.

How can parents be sure that their children are safe at schools in America? When a 17 year old can get his hands on guns and assault style rifles. American Government should devise plans to stop gun violence in their country. So, students can feel safe going to schools and they do not have to fear similar deadly shootings in the future.

Sabika's Dead Body Will Reach Pakistan Today

Sabika Sheikh was one of the first confirmed victims of the mass shooting in Santa Fe High School on Friday. Her funeral prayer was offered at 2:00 pm (local time) yesterday on Sunday, 20 May 2018. Ms. Aisha Farooqui, Pakistan's Consul General in Houston, collected Sabika's dead body. Now, the body is expected to reach Pakistan today on May 21.

Ambassador Aizaz Ahmad also expressed heartfelt condolences for the victims of the tragic shooting incident at the Texas school. But he was not alone because every person was saddened to find out about the mass shooting that took so many lives and injured dozen others. For latest news keep on checking our website regularly.



Related News
---