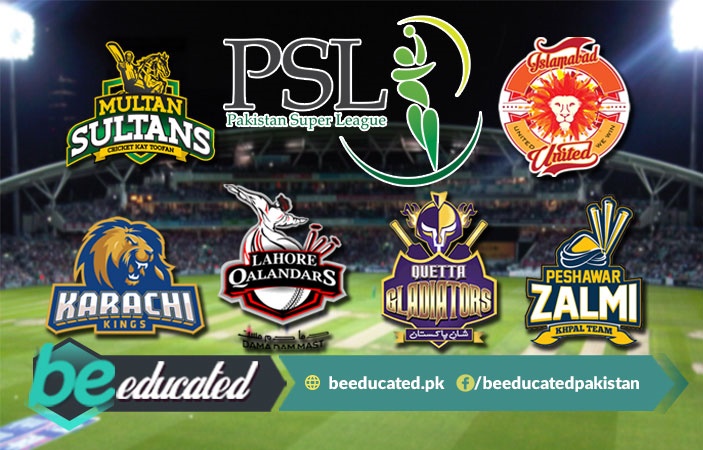 Even though Hockey is Pakistan's national game yet the love of cricket, somehow, runs deeper in our bloods than any other game. Producing naturally talented players, our country, has left a great impact on the global arena of cricket. But the game of cricket was dying in Pakistan, for the past decade, due to the ban imposed on international matches by ICC to be held here after the security situation deteriorated here, in this country of extremely loving and hospitable people.

Then there was a platform emerging as a hope for Pakistan and its cricket, yes, The Pakistan Super League; also known as PSL for short. Now in its Third Edition PSL is what every cricket lover, which is almost everyone, in Pakistan wants to watch and even though our neighboring countries talks about it in a negative way but they too are completely on top of the new developments in PSL.

PSL 3 has seen the addition of another new team, the 6th in number, named the Multan Sultans. Team based for the city of Multan (the city of Saints) have seen great success in its opening matches this season of PSL and have gained a lot of social media attention, though they once took lead in the opening matches now they stand in 4th place ahead of Peshawar Zalmi (5th place) and Lahore Qalandars (6th place). Multan Sultans are being supported by their team ambassadors Ahsan Khan and Neelum Muneer, they are one of the reasons the team has been trending wildly since it started playing in the league.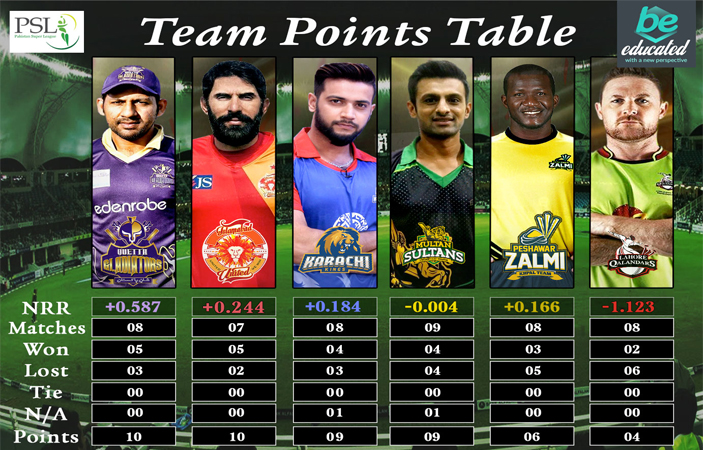 Lahore Qalandars, though had a miraculous win against Karachi Kings (3rd place in Points table so far), but even that miracle can't help them out of their utter demise as they have lost 6 matches already of 8 they have played. Peshawar Zalmi, the team for the city of Peshawar, led by Darren Sammy still has a chance but it's after they win both of their remaining matches and hope for the other leading teams of the point table to lose in awful manner.

Quetta Gladiators (1st place for now) and Islamabad United (presently in 2nd place) are going strong and the leading the point table with 10 points each, with more matches to come for both teams in upcoming fixtures of PSL 3. Trailing at 3rd place currently is Karachi Kings with 8 played matches winning 4 and losing 3 while one ended in no result due to the rainy weather on their match again Multan Sultans.

The best of performance in PSL 3, so far, with the bat has been of Shane Watson. The thirty six year old Australian player, mostly known for his bowling and great ball-hitting, is still athletic, in form, and proving his mettle by having scored 299 runs in matches he played making him this season's highest scoring batsman. As a matter of fact he has scored the most sixes (41 6's) in the whole of PSL from the period of 2016 till 2018.

While Tahir and I mean Imran Tahir, the Dublin based South African draft player, securing a hat-trick against Quetta Gladiators is leading over every other bowler's stats of having bagged 12 wickets so far in this tournament.



Hope there will be many more action packed matches in the future fixtures of PSL this season, and in the upcoming seasons, for all the cricket enthusiasts including our team here at BeEducated.PK. For PSL is a platform which promotes our Cricket and our players to the whole world, we should support it with all of our heart.

Related News
---