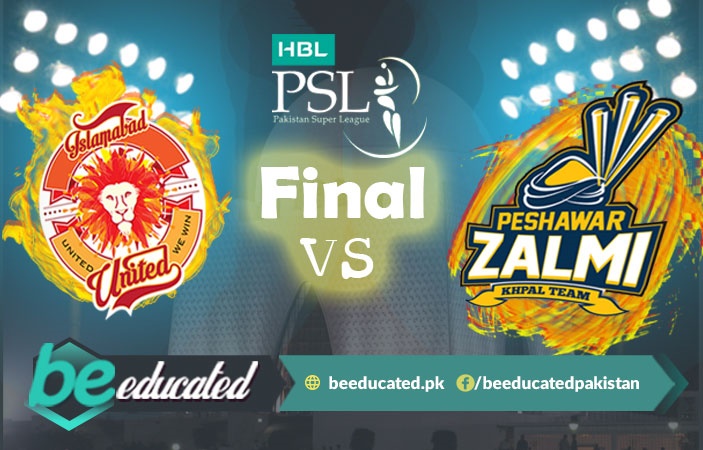 The deciding match of the PSL 3rd Edition will be played on March 25th 2018. PSL final is only 3 days away. The final match of PSL 3 will start at 7:00 PM (PST) in Karachi's National Stadium on Sunday (25th March). The two teams that will compete in the Finals, for the Pakistan Super League's 3rd trophy, are Islamabad United and Peshawar Zalmi. It's surprising for most people in Pakistan that Peshawar Zalmi made it into the final of PSL 3 this year.





Peshawar Zalmi that ranked 3rd before the 2 knockout matches played in Lahore, won both of those matches consecutively (one after the other) eliminating teams that ranked 4th and 2nd according to the PSL Points table. At one point Zalmi was considered a team that will not survive for even the knockout matches. But it has been fighting hard to make its way towards the trophy of PSL 3rd Edition.

Peshawar Zalmi (PZ) took the cup in the last PSL tournament (2nd PSL) and now it has gotten into the final in this year's PSL 3. PZ knocked out Quetta Gladiators in the 1st elimination match and then Karachi Kings in the 2nd knockout match. Karachi Kings (KK) was one of the most balanced and expensive team of the current PSL tournament. Defeating KK makes Zalmi team a good contender for winning this year's PSL as well.



On the other hand we have Islamabad United team which has ranked 1st in the PSL points table, before the knockout matches, and made it directly into the final by winning 7 of the 10 matches they played. Now, Islamabad United will be playing against the consistently winning team of Peshawar Zalmi. If Zalmi wins again the final against IU, it will be its 6th consecutive win in matches. As it has been winning all its PSL 3 matches since 15th March fixture against Karachi Kings.

What do you think supporters of Islamabad United? Does your team have what it takes to break the winning momentum of Peshawar Zalmi. Also, what are your thoughts Zalmi suppoters? Do you believe that Zalmi will handed the PSL trophy this year as well? All of this will be made clear in the heated final of PSL 3rd Edition.

On coming Sunday, cricket fans will be expecting great performances from the key players like Luke Ronchi, Kamran Akmal, Liam Dawson, Darren Sammy, Hassan Ali and Joe Denly in the National Stadium of Karachi. Cricket loving team, of BeEducated.pk, will also get to enjoy the Final of Pakistan Super League 3rd Edition.

As it is a day off from schools and offices, every cricket lover in Pakistan will be watching the final of Pakistan Super League 3rd Edition. May they get the tickets for the match or not, people will make sure to watch it on their TVs, Tablets or Mobiles. You can watch the last match of 3rd PSL online on CricketGateway.pk or Wickets.tv.

Let's see which team wins the Trophy of Pakistan Super League 3rd Edition. So, may you be a supporter of Peshawar Zalmi or Islamabad United, just keep your fingers crossed!

Related News
---