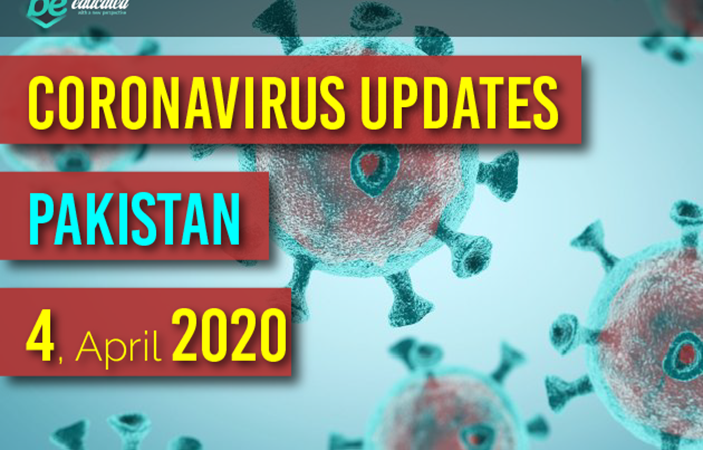 Nationwide tally Coronavirus cases in Pakistan rises to 2,700, and global coronavirus deaths pass through 59,000, total cases worldwide surpass 1 million

By beEducated.pk Updated Saturday, April 4, 2020

ISLAMABAD / LAHORE / QUETTA / PESHAWAR / KARACHI: The number of confirmed COVID-19 cases in Pakistan climb to 2,709 on Saturday evening after new infections were found in the country.

The province-wise break up of the total COVID-19 cases as of 3:00 pm, April 4, is as follows:

Total confirmed Coronavirus cases in Pakistan: 2,709

• Punjab: 1,072

• Sindh: 839

• Khyber Pakhtunkhwa: 343

• Gilgit-Baltistan: 193

• Balochistan: 175

• Islamabad Capital Territory: 75

• AJK: 12

Total Death toll in Pakistan: 40



• Sindh: 14

• Punjab: 11

• Khyber Pakhtunkhwa: 11

• Gilgit-Baltistan: 3

• Balochistan: 1


The death toll from COVID-19 proceeded from April upwards, with more than 59,401 people known to have died worldwide.

Globally, more than 59,401 deaths from the virus have been registered so far, of which most are from Europe since the disease first victim comes out in December.

Meanwhile, more than 1,121,917 cases of the virus have been recorded in 205 countries and territories.

Coronavirus confirmed cases in the USA rise over 277,522; and currently the epicenter of Coronavirus.
The fatality rate in Europe is high as 59,000: and in Italy, 14,681 deaths out of 119,827 declared infections, Iran with 3,294 deaths out of 53,183 affected cases, Spain with 11,198 deaths out of 119,199 active cases, Germany with 1,275 deaths out of 91,159 affective cases, Similarly France with 6,507, out of 82,165 infections cases, the death rates are on the peak in Italy, USA, Spain, France, Iran and now in the UK while active cases are high in the USA since the virus first case found in December.

READ MORE: Coronavirus Helpline Number in Pakistan

Disclaimer: There can be some variation in the total confirmed cases of COVID-19 across the country due to differences in figures from provincial and federal authorities.

BeEducated.pk is constantly gathering accurate and fresh information from all over the world from concerned authorities and reliable authorities and made it effort to keep their readers up-to-date about all the latest information of Coronavirus with the correct figures.
Related News
---