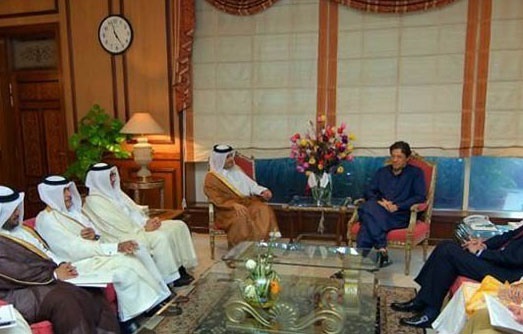 Prime Minister Imran Khan says that we hope Qatar will soon act upon the agreement to provide jobs to 1 lac Pakistanis.
Bilateral Trade to Improve Between Both Countries
Prime Minister Imran Khan met with the Foreign Minister Abdul Rahman Jassim Al Thani, who congratulated him for taking over the Prime Minister's office.

BeEducated.pk wants you to know that during their meeting, Qatari Foreign Minister discussed how Qatar wants to work together with the new Pakistani leadership and how the Amir of Qatar wants to promote bilateral relations between the two countries, which will bring prosperity and help develop Pakistan.

More News: Prime Minister Says Overcoming Money Laundering Means Success


On this occasion, the Prime Minister said that Qatar can invest in livestock, agriculture and energy sector of the country. Because it's beneficial for both nations to increase trade between the two countries.

PM Imran Khan also said we hope that Qatar will be soon be working on the agreement to provide employment to 1 lac skilled Pakistani people.
Pakistan's Foreign Minister meets his Qatari Counterpart
According to the Foreign Ministry, Pakistan's Foreign Minister Shah Mehmood Qureshi and his Qatari counterpart met at the Foreign Office. The bilateral relations between the two Foreign Ministers were discussed along with bilateral cooperation and trade.

FM Shah Mehmood Qureshi told the investors that they can invest in fields of agricultural, livestock, energy and refineries in Pakistan. While he kept emphasizing the increase of bilateral trade between the two countries. The Pakistani foreign minister also said that we welcome Qatar's decision to give 1 lac jobs to Pakistanis in their country.

On this occasion, the Qatari Foreign Minister conveyed greetings and congratulations to getting to his Pakistani counterpart on the behalf of Qatar's current Amir Pakistani successor to the success of the elections and expressed good wishes.
Related News
---