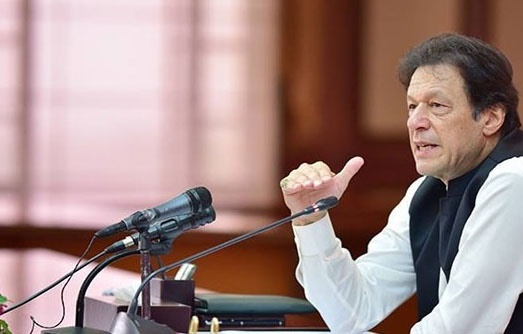 Prime Minister Imran Khan had said that the current times are difficult, but if we are able to overcome money laundering issues, our economy will start to prosper once again.

BeEducated.pk wants you to know that a delegation of Business Community met with the Prime Minister, in which the trader community presented PM Imran Khan a cheque of Rs. 9 crore 19 lac for the Diamer Bhasha and Mohmand Dam fund.
Country is currently facing difficult economic conditions
On this occasion, the Prime Minister said that the country is suffering from difficult economic conditions, past governments have not only pushed the country into the quagmire of internal and foreign debts, but also left the public departments completely destroyed. Today, the condition is as such that major National Institutions are facing huge financial losses.

Also Read: PM Imran Khan Hopeful Not to Seek Help from IMF


Imran Khan said the previous governments have treated the country and its resources worse than its enemies and whatever situation we are in today is due to their misconduct and wrong policies.

He said if we observe any national department i.e. Steel Mills, PIA or Pakistan Railways, we will find them running in losses of billions of rupees. PM said that the country has no shortage of resources, but the way it has been looted on such a big scale, it's unbelievable.

The Prime Minister said that Pakistani nation is capable of accomplishing anything. With the will of Allah, we will soon come out of the present crisis. The country has the ability to make billion dollars from each one of its sectors. However if we are able to get our laundered money back lawfully and we overcome the present money laundering issues then Pakistan's economy will be better, which will mean success to the government.
Prime Minister meets Qatari Foreign Minister
PM also met with Qatar's Foreign Minister Abdul Rahman Thani, who congratulated him on becoming the head of state. During their meeting, Qatari Foreign Minister Thani said that Qatar wants to work together with the new leadership of Pakistan and wants to promote bilateral relations between the two countries. Abwants to keep working together for Pakistan's prosperity and development.

In this matter, the Prime Minister said that Qatar can invest in agriculture, livestock and energy sector in Pakistan. As it will increase trade between the two countries and be beneficial for the people of both nations. He aslo said that we hope Qatar will soon act upon its agreement of providing jobs to 1 lac Pakistanis in their country.
Earthquakes Occurred during the PTI meeting
On the other hand, sources said that the earthquakes were felt at a meeting of the PTI leaders led by Prime Minister Imran Khan, due to which party leaders got up from their seats. Meanwhile, the Prime Minister's security personnel entered the briefing room and requested everyone to come outside.

However, the prime minister refused to leave the room and said that where he goes the earthquake will not stop, so nothing can be done about it.

Read More: 5.3 Magnitude Earthquake Rocks Khyber Pakhtunkhwa

After which Prime Minister resumed the meeting, during the earthquake, and the ministers also got back into their seats while seeing the PM's resolve. Prime Minister briefed the party leaders and ministers about the economic and energy policies at the meeting, while ministers briefed party leaders about the energy, gas and economic sectors' condition in the country.

Finally, keep visiting our platform on regular basis to get latest politics news and so much more.
Related News
---