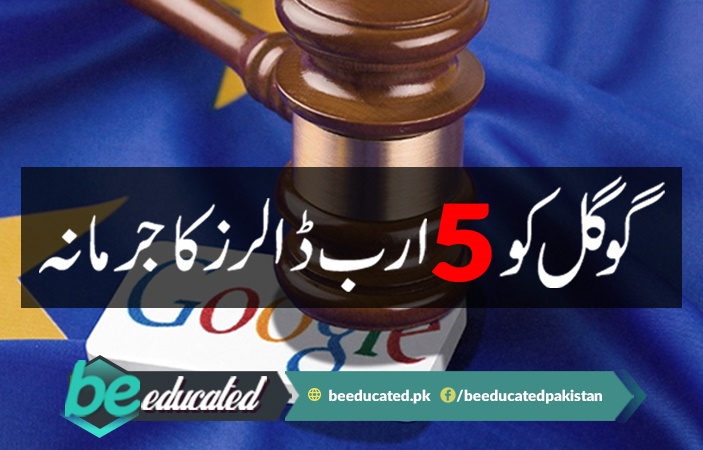 In Brussels, European Authorities have fined Google a record $5 billion for breaking antitrust laws.

According to European Commission, Google has abused its power in the mobile phone and has been dominant in three key areas. Google has been working on its search engine and Chrome apps into the operating systems. Manufactures that refused Google won't be able to use Google Play Online Services and Streaming.
Google Needs to Shut Down its Illegal Conduct
BeEducated.pk found out that the European Commission wants Google to shut down its illegal conduct to an end within 90 days of the decision. Which means google have to stop forcing the manufacture to preinstall Chrome and its search engine. Google will also prevent of making phone makers for using forked versions of Android.

Margrethe Vestager, the European Union Competition Commissioner, said Google is using android devices to cement its dominance as a search engine, and its illegall under EU antithrust rules.

In A tweet Margrethe Vestager Says 'Fine of €4.34 billion to @Google for 3 types of illegal restrictions on the use of Android. In this way it has cemented the dominance of its search engine. Denying rivals a chance to innovate and compete on the merits. It's illegal under EU antitrust rules. @Google now has to stop it.'
Google Appeals the EU Decision
Google says "Android has created more choice for everyone, not less. A vibrant ecosystem, rapid innovation, and lower prices are classic hallmarks of robust competition, we will appeal the Commission's decision." Google is warning that this may affect the free business model of Android in the future.

Fair search has already filed a case against Google back in 2013, and the group included competitors like Nokia, Microsoft and Oracle.

Android has long been considered open-source OS, but Google has slowly been adding key components into its Google Play Services software and associated agreements.

The EU has now ordered Google to make changes within 90 days and unbundle search and Chrome from its Android offering. With Google appealing the decision, the legal process is likely to run for many years ahead.
This decision seems to be more about preventing Google from adding its services forcefully to Android.

Phone manufacturers will still be free to bundle Chrome and Google search apps if they wish, but they won't be forced to do so, and they'll be free to offer devices with forked versions of Android. To get latest international news keep visiting our website as much as possible.
Related News
---