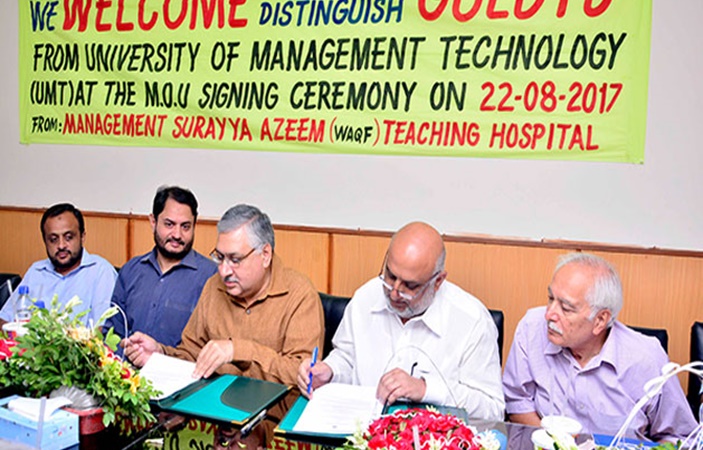 LAHORE: A Memorandum of Understanding (MoU) was signed by School of Health Sciences at University of Management and Technology with Surraya Azim (Waqf) Hospital for the training, practical experience for the Medical students for the future association to transform knowledge.

UMT Director General Abid HK Shirwani and the governing body member of Surraya Azim Hospital Iftikhar Chaudhry signed the agreement and then they exchanged the file of needs.




The Director General of UMT at the ceremony said, while signing the MoU that the link up with Surraya Azim Hospital will result in exceptional learning chance for the aspirants of School of Health Sciences.

He further added in his statement that the aspirants of UMT will get the chance of practical experience and internship via professionalism and a house job at the Surraya Azim Hospital. He added in his statement that both the respective field's aspirants will make efforts to bring revolution to medical sciences and will discover new things.

While Zikrullah Mujahid expressed in his views that a great pleasure is associate with the UMT and Hospital as it will bring inspiration in advanced educational institute of higher education.

Mujahid further added that the varsity will professionally contribute to the hospital in terms of innovation as well as modernization because it had revolutionized the education zone.

Both the faculty as well as the students after the affiliation will get lots a lot of opportunities while evolving health research, improve the expertise, while adding the value in their performances they will also be able to get experience in working in various specialties.
Related News
---