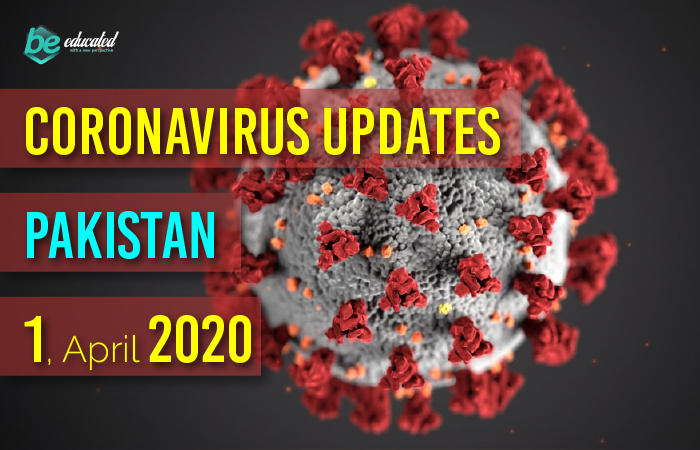 Nationwide tally of confirmed active cases goes pass to 2,000, global coronavirus death cases surge to pass to 42,000+

By BeEducated.pk Updated Wednesday, April 1, 2020

KARACHI / QUETTA / LAHORE / ISLAMABAD / PESHAWAR: The number of confirmed Coronavirus cases in Pakistan rise to 2,049 on Wednesday's Evening after new cases were confirmed in the country.

The province-wise breakup of the total confirmed cases of COVID-19 as of 3:00 pm, April 1, is as follows:

Total confirmed cases: 2,049

• Punjab: 708

• Sindh: 679

• Khyber Pakhtunkhwa: 253

• Gilgit-Baltistan: 184

• Balochistan: 158

• Islamabad Capital Territory: 58

• AJK: 9

Total confirmed Deaths: 26

• Punjab: 9

• Sindh: 8

• Khyber Pakhtunkhwa: 6

• Gilgit-Baltistan: 2

• Balochistan: 1

Globally, more than 43,000 deaths have been recorded from Coronavirus disease so far, of which most affected have been in Europe since the disease first case emerged in December.

Meanwhile, more than 872,000 cases of the virus have already been registered in 203 countries and territories.

READ MORE: Coronavirus Helpline Number in Pakistan Call

Disclaimer: There can be some discrepancy in the total number of confirmed cases reported at the country due to differences in figures quoted by provincial and federal authorities.

BeEducated.Pk is constantly gathering updated information from concerned authorities and put their efforts to keep our readers up-to-date with the most accurate information.
Related News
---