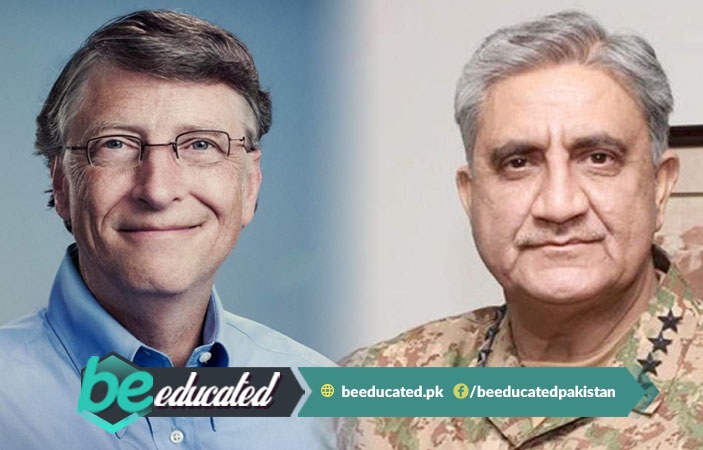 Bill and Melinda Gates Foundation's Co-chairman Bill Gates called Pakistan's Army Chief General Qamar Bajwa on Thursday and appreciated the efforts taken by Pakistan for the success of anti-polio drive.

In reply General Bajwa, who was recently added to Forbes' list of Most Powerful People 2018, appreciates the efforts towards this noble cause and assured him of continued full cooperation in the best interest of Pakistan.

Pakistan Army Successfully Eliminates Polio from Pakistan

Major General Asif Ghafoor wrote in a tweet: 'Bill Gates called Chief of Army Staff. Acknowledged supporting efforts by Pakistan Army for successfully eradicating Polio from Pakistan. COAS appreciated his efforts towards this noble cause and assured him continued full cooperation in best interest of Pakistan.@BillGates #PolioFreePakistan'

The Army's role to remove polio was not limited to Federally Administered Tribal Areas, as it was given the task to eliminate the disease from the entire country. Last month, Dr Umar Saif used innovative systems for immunization coverage, terming it an example for rest of the world.



Poliovirus is found only in Afghanistan, Pakistan and Nigeria. In 2016, there were very few cases that were reported globally. Bill and Melinda Gates Foundation works to improve the quality of anti-polio immunization campaigns in Nigeria, Afghanistan and Pakistan, and the countries with the threat of polio virus transportation.

So Far Only One Case of Polio Has Been Reported This Year in Pakistan

Pakistan is the third country across the world that has been fighting with Polio for several years. The number of cases has been reported from the country are 306 in 2014 to 54 in 2015, 20 in 2016 and eight in 2017. In 2018, only one polio case has been reported from Dukki, Balochistan.

Beeducted.pk wants you to know that Bill Gates has given the highest amount for charity ($35 billion) among the greatest philanthropists in the contemporary world.

Bill and Melinda Gates Foundation had announced to increase financial aid for Pakistan. Also, in a letter to the Minister for National Health Service Gates have praised the Government's commitment to the elimination of polio. For more news and updates keep visiting this website frequently.

Related News
---