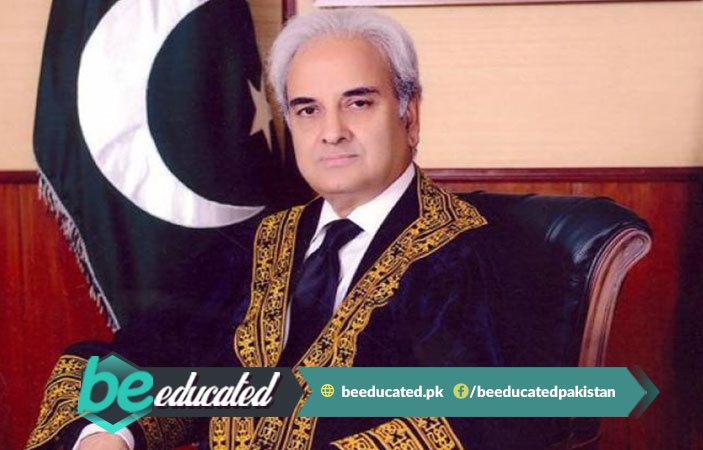 Pakistan government and opposition has decided to make Ex-chief justice Nasir ul Mulk to act as the caretaker Prime Minster. According to news reports, former CJP will assume the position of caretaker PM on 1st June, 2018. Also, he will be responsible for the upcoming general elections in Pakistan.

Nasir ul Mulk Served as CJP for Over an Year

BeEducated.pk is posting this news to let you know that both government of Pakistan and its opposition has named former chief justice Nasir ul Mulk as the caretaker Prime Minister of our country. So, he can take responsibility of holding the general election before the month of July ends.

The newly selected caretaker PM served as Chief Justice of Pakistan for over a year, back in 2014. Also, he is known for being politically neutral and that is why he was considered the best person for this position.

On Monday, opposition leader Mr. Khursheed Shah announced his appointment at a press conference in Islamabad. He was accompanied by the provisional Prime Minister Shahid Khaqan Abbasi and speaker of National Assembly Mr. Ayaz Sadiq.

During the press conference, PM Abbasi said, "Today, we have chosen someone whose past record is clear" and added "Hopefully, as a caretaker PM he will also work for (our) country and its democratic system."

The opposition leader also agreed with Khaqan Abbasi's statement and said that he expects the elections will be conducted in a fair, free and timely manner. He also said that the coming elections are very important for Pakistan, as the country is going through lots of issues and (as) we have seen manipulation in the election results many times before.

General Elections to Start From July 25



According to news reports, Pakistan will hold a general election from 25th July. Because the fiver year term of PML-N has come to an end, for which Nasir ul Mulk is being named the caretaker Prime Minister.

If the elections are held without any incident then it will be the second time that a democratic government will complete its term and give way to another democratic government in the history of Pakistan.

Imran Khan, the leader of PTI, who recently gave his 11 points for Pakistan's development was happy with the appointment of Nasir ul Mulk because on the matter he said, "an honourable name (and) a suitable choice for the position of caretaker PM."

Now, Ex CJP Nasir ul Mulk will assume the responsibilities of Caretaker Prime Minister to hold elections on time and to ensure day to day affairs of government are not interrupted before the new government is formed. For more news and updates keep on visiting our website.

Related News
---