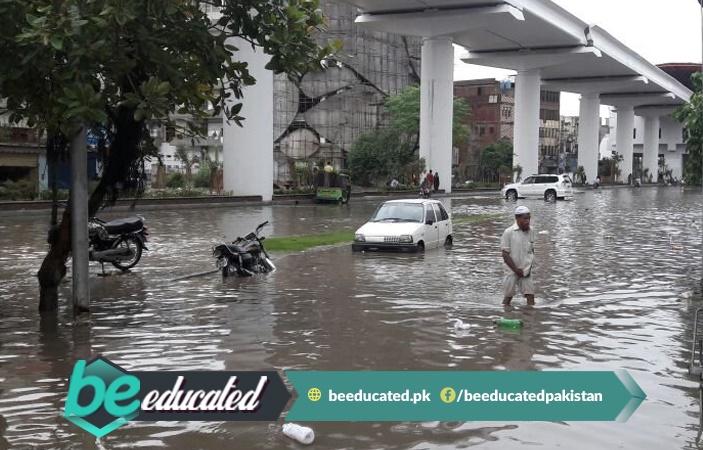 Monsoon rains have started all over Pakistan, while a current rainstorm has killed 3 people in Lahore. According to news reports, the deaths have occurred in the eastern area of the city, where residential areas are flooded. While Meteorological department (Met) has announced to expect more rainfall in the coming days.

Lahore Streets are Flooded Due to Bad Sewerage System

BeEducated.pk is posting this news to let you know that you should stay indoors until unless it's necessary to go outside. As almost all streets and main roads of the city are filled with water, where rain related accidents have claimed three lives, so far.

First two people to be reported dead were found in Rewaz Garden, where they got electrocuted after an electricity wire fell on them. According to news reports, both of them were police constables. While another man's death also occurred due to electric shock around Qurtaba Chowk.

Another report came from Jauhar town, where a house's roof caved in and a woman and her two children got injured. More than 200 feeders tripped due to the heavy rain and various areas including Muslim Town and Shadman have no electricity.

Met has predicted the heavy rains will continue for the whole month of July.

Water Has Entered into the Houses in different areas of City

Most citizens are facing extreme difficulties because water from the rain has entered into houses in various areas of the city. The most affected areas are being reported as Harbanspura, Baghbanpura, Mughalpura and Ghari Shahu, where water has filled up to many feet.

MD Water and Sanitation Agency (WASA) Mr. Zahid Aziz has revealed that their staff is working on clearing out the water from the city, though after the rain stops it will still take them 2 or 3 hours to drain all the rain water gathered in Lahore. For more news and updates keep visiting our platform as much as possible.
Related News
---