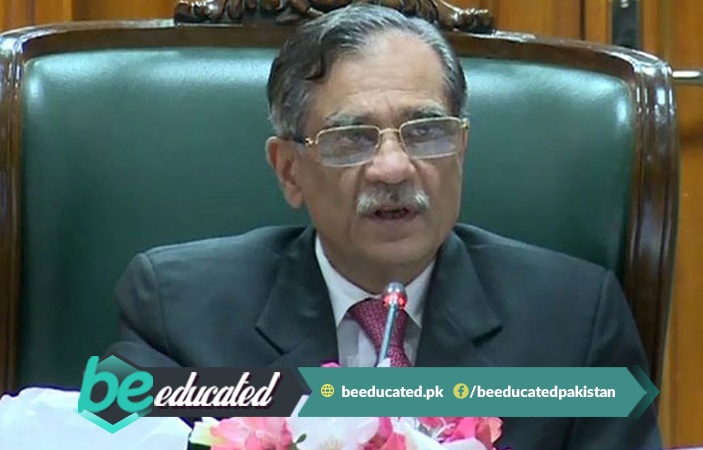 In Islamabad, Chief Justice Mian Saqib Nisar, during the hearing of school fees, remarked "Why not Private schools should be taken under government's control?"

Request Dismissed For Taking Half Fees

The Supreme Court held the Khyber Pakhtunkhwa private school registration and June-July Fees Case. Where the court dismissed the schools' request against the order of receiving half fees of June-July months.
The school lawyer Salman Akram Raja said that every school does not charge fees in thousands, Schools will go bankrupt if they do not take fee for June-July. He added that his client only charges Rs. 15,000 per student annually.

The Chief Justice said that he will discuss the issue with the parents and students and then he will disclose the court's decision. CJP observed that Beacon House students are paying 25 to 30 thousand, but private schools must only ask for legitimate fees, as forty-five thousand per student is not justifiable. He then asked, "Is it mandatory that the only Beacon House School earns profit?"

The court issued a public notice in response to the request of private schools and ordered to publish the notice in Urdu and English Newspapers, while all costs of printing the notice should be paid by private schools.

Nationalisation of Private Schools after CJP's Remarks on Constructing New Dams in the Country

Chief Justice proposed why not we turn over private schools to the Government. As Government is unable to pay attention to improve the education sector. The court has established a commission on the issue of education, and it should be taking notice of the costly education, because it's a problem of millions of children and their parents, The state is not fulfilling its responsibility, to make some people Rich the government schools' education is not being improved, If I had not gained higher education then today I would be a clerk in a bank.

BeEducated.pk wants you to know The Peshawar High Court ordered to take half fees of summer holidays from schools, against which the schools had appealed in the Supreme Court. Thus, Supreme Court rejected the petition for suspending the previous verdict. To get latest news, read articles and get helpful studying material keep visiting our website as much as possible.
Related News
---