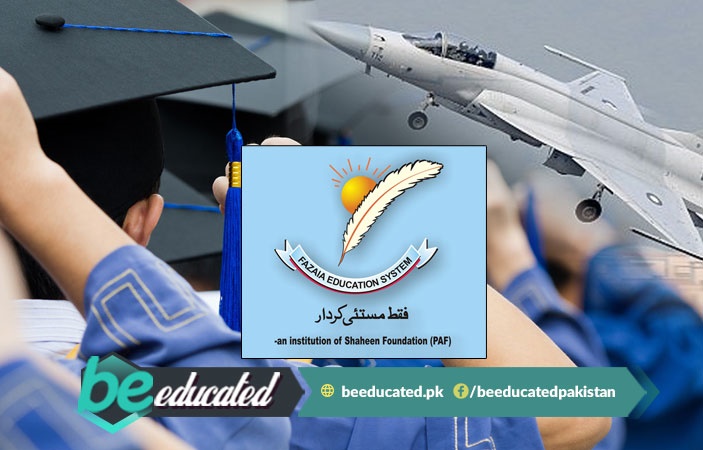 Students there is great news for you, Fazaia Educational Welfare Scheme (FEWS) is offering Need-based and Merit-based scholarships to the children of serving, retired and deceased Pakistan Air Force employees. Merit-based scholarships will be provided to students studying in Bachelor's or Master's degree programs. While Need-based scholarships are awarded to students of all classes.

Scholarships are Awarded to Students of Different Categories

BeEducated.pk wants to inform you that there are a total of 1420 FEWS scholarships available for students of various classes.

• Category-I includes scholarships for students of Master's and Bachelor's,
• Category-II has funds for Matric and Intermediate students and,
• All other students of class Prep to IX can get scholarships under category-III and IV.

Merit-based scholarships are provided only to 50 talented students of Master's and 120 capable students of Bachelor's degree programs each year. As the funds are released after 6 months or a year, so it can be stopped if students do not perform well in their studies.

Need-based scholarships are available for all study levels from Prep class to Master's. 10 Master's student and 40 Bachelor's students can gain funds on need basis. While 700 scholarships are distributed among Category II and III students. 500 students in category IV receive funds on need basis as well.

Applying for Fazaia Educational Welfare Scheme's Student Funds

You can apply for these student funds on FEWS official website before November 2018. Now we will discuss the eligibility criteria and other requirements for the scholarships, which are as follows:

Eligibility Criteria

• If you are applying for Bachelor's funds then you should not be older than 25 years
• If you are applying for Master's scholarship then you should not be older than 28 years

Requirements for Merit Based Scholarships

• You must be a child of serving, retired or deceased PAF officer/airman/civilian employee
• You must have taken admission in HEC recognized University or College
• If you a Master's students then you must have more than 65% marks in your graduation
• Bachelor students must have at least 70% marks in their intermediate result

Need Based Scholarship Requirements and Other Benefits

• You must have gained admission in a HEC recognized College or University
• You must be a child of serving, retired or deceased PAF personnel
• Disabled and special children can also apply if they fulfill the second requirement
• Financially burdened PAF employees can apply for their terminally sick children

Students if you think you fulfill all requirements of the Fazaia scholarhips then go visit FEWS website right now. So, you can study in well reputed schools, colleges or universities to make your future bright and gain success in your field of work after graduation. Recently, master's level students are also applying to Kingston University scholarships for international students. To keep on getting more news on latest scholarships visit our platform regularly.

Related News
---