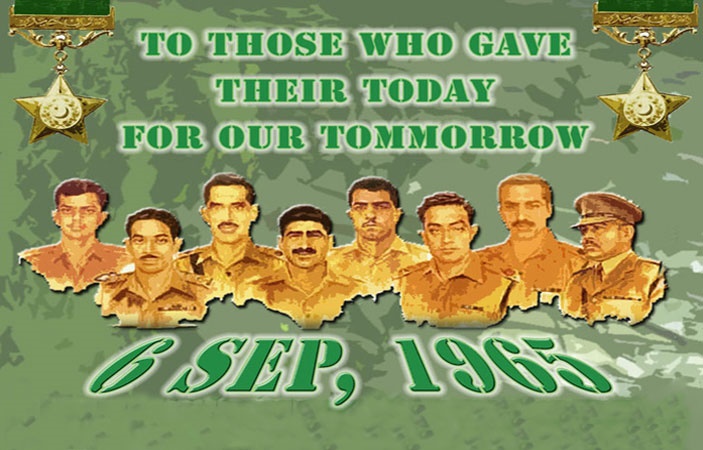 Today Pakistan is celebrating its 65th Defense Day to commemorate the sacrifices of our martyr heroes who lost their lives in 1965 and 1971 war.
These celebration will continue till 8th September. Every year we celebrate this day on the same date as we made our enemies shambolic on trounce.

The celebrations starts with gun salute in capital and Federal provincial and headquarters. Special prayers are offered for the veterans of war and martyrs.

Pakistan Air Force Academy Risalour take charge of guard duty at the tomb of Quaid-e-Azam. National Anthem and flowers are laid at the tomb of the father of the nation.

Special ceremonies are going to be take place at Army, Naval and PAF installation.
Pakistan army will celebrate the defense day with full pride while organizing the parade for the chief guests.

In this parade Tanks, Guns, Armored personal carriers will be a part of this parade. Army aviation will display its air power. Air acrobats will be perform.

Weapons and equipment special display will be held after the parade.

Chief of Army Staff General Qamar Javad Bajwa will be the chief guest. Family members of martyrs and war veterans as well as civil and military leadership will be invited as guests.

Families of martyrs and veterans of war will be invited and they would be then able to share their feelings about their loved ones who sacrificed their lives for precious motherland.

Pakistan Navy will also organize an event at the sea view for the public in Karachi. Pakistan Navy SAL commandos will perform free falls into water, jumping from helicopter and hostage of operations at the coastal areas of Karachi as a display.

At PAF base Masroor Karachi a special occasion will be celebrate on Defense Day with great zeal. In which air acrobats including fighter jets acrobats will be display in the ceremony.

The aircrafts in PAF including JF-Q7 Thunder, F-7P and F-16 Mirage on ground support and other auxiliary equipment will be put on display.

Exhibition of PAF Books, Aviation Art Gallery, and Historical War Pictures will be set on display. Furthermore documentary film about PAF history will be shown for information and knowledge.
Related News
---