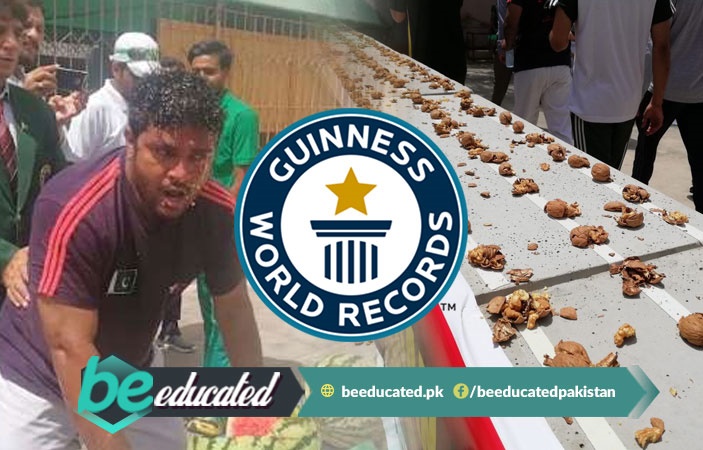 Pakistani Martial Artist Rashid Naseem, 32 year old, created his 26th World Record. Rashid Naseem broke 278 Walnuts with his palm within 1 minute to make this new world record. He has made one more world record and as Pakistanis we should be proud of his achievements.

Rashid's Other World Records

Beeducated.pk wants you to know that Rashid has made world records for smashing 51 watermelons with his head under one minute and most bottle caps removed with his head in the same time. After making this latest world record Rashid Naseem will be featured in Guinness World book record for 26th time. He also claims to be a record holder for crushing the highest number of cans.

Rashid Naseem crushed 278 walnuts in 60 seconds, 26 more walnuts than previous record held by an Indian martial artist for crushing 251 walnuts in one minute. Wearing a glove, he used the bottom of his hand to smash the walnuts, and Guinness officials could be seen counting them afterwards.



Training and Future Goals

Rashid Naseem, who is trained in martial arts and runs a martial arts training school, said he had been preparing for this attempt for 6 months.

Rashid who also has a world record for smashing coconuts using his head said that fresh coconuts are hard to break and he have trained very hard for making that record. He added that during practice he used to get a lot of headaches. But with the passage of time he got enough strength to tackle his headaches.

Rashid said: 'It takes a lot of practice to break a world record. I've been practicing the attempts for past several months. It requires a lot of funds to attempt and break a world record and I'm doing all this without the support of any sponsor or any government help.'

He added: 'My aim is to make 50 world records and make my country proud, setting up new records is giving me a lot of happiness.' Hopefully, more athletes will break world records and make our country proud. So, to get latest news keep on visiting our website frequently.

Related News
---