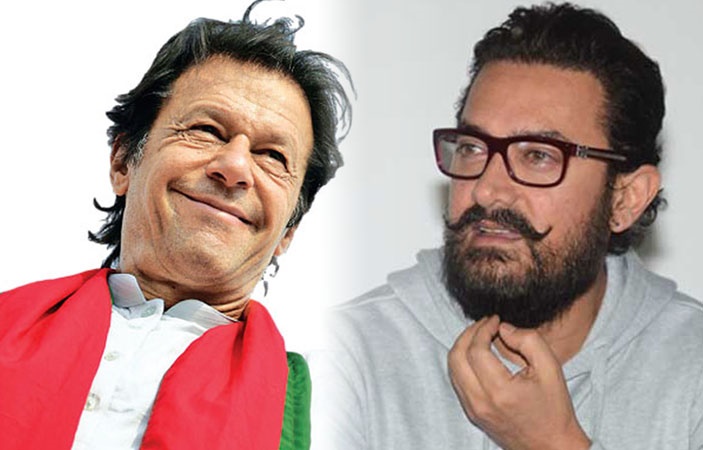 In Karachi, Pakistani Singer Ali Zafar has reminded Bollywood's star Aamir Khan to come to Pakistan and fulfill his promise after Chairmen PTI Imran Khan becomes Prime Minister.

Bollywood Star Aamir Khan's Fans are all over the Globe, But Aamir Khan himself is a great fan of former Pakistani cricketer Imran Khan the expected prime minister, and he respects his dedication and passion for the nation.
Imran Khan Meets Aamir Khan
About 6 years ago, Imran Khan attended a ceremony in India as a special guest, In the event, Bollywood's Mr. Perfectionist Aamir Khan was also present. The host of the event to expressed his opinion about Imran Khan with Aamir Khan, Aamir Khan praised Imran Khan first and said, "You have answered all the questions very well."
Aamir Khan praised Imran Khan's madness about the country, saying, "The dream that you have regarding your country may come true." I pray that such a government comes to Pakistan who could really solve Pakistan's problems and prospered in Pakistan. It will not only be good for Pakistan but also for us. Aamir Khan further said that my prayers are with you and you may achieve success in what you intend to do. My heart says that you will definitely become successful because you have been working for this mission from several years. Despite you have faced a lot of challenges and you didnt gave up on your mission.
BeEducated.pk
wants you to know that, Imran Khan invited Aamir Khan to come to Pakistan before the election of 2013, on which Amir Khan had said when you will win the election, then i will come to Pakistan to celebrate your victory and i will not come alone, but i will bring many Indians with me.
On the other hand, the famous singer Ali Zafar also reminded Aamir Khan about his promise and said its time to come to Pakistan.For More Updates Keep Visting Our Platform.
Related News
---