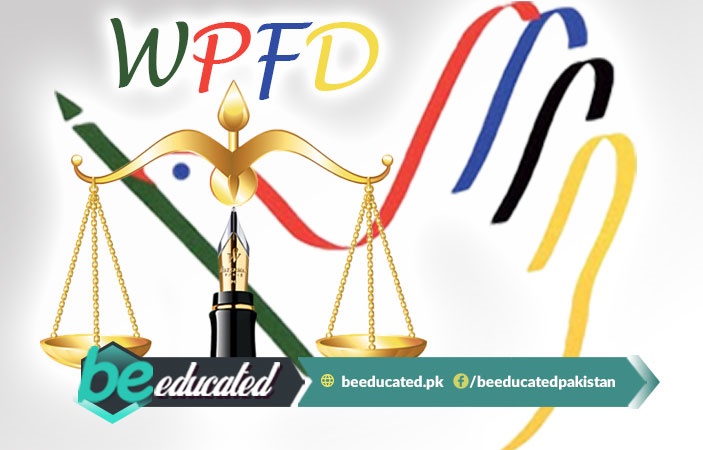 The world celebrates World Press Freedom Day (or World Press Day) on 3 May after UNESCO declared it in 1993. On this day people celebrate the basic principles of press freedom, check the position of press freedom around the world, protect the media from attacks on their independence and pay respect to journalists who have sacrificed their lives in the pursuit of truth.

"Keeping Power in Check" Theme for World Press Day 2018

BeEducated.pk is posting this news so that people will pay attention to press in our country and whether it is given all its rights and protection of law. Speaking against powerful parties and movements can make things difficult for the people of media. Especially if Government of a country wants to keep something secret, it will not let anyone speak about it.

World Press Freedom Day will be celebrated this year to make sure that press can operate without the fear of people/organizations in power. People will be focusing on the matter that media is extremely helpful during elections in keeping an eye on its proceedings. So, press should have the freedom to express their views and cover the election proceedings to keep it fair and transparent.

This year the main goals for celebrating World Press Day are to focus on:

• Establishing a legal environment for media and its freedom
• Role of Press in ensuring accountability, transparency and the rule of law
• Freedom of expression
• Risks of Government(s) passing laws against online speech

Conferences and Prizes for Contributions Relating to Freedom of Press

UNESCO organizes a conference each year on 3 May to bring media professionals, UN agencies and press freedom organizations to discuss solutions on press freedom in countries where the press is not given legal rights for doing their duty.

Prizes are distributed among people, firms or institutions that have made worthy contributions for the protection and/or promotion of press freedom anywhere around the globe. Press freedom organizations from all over the world submit candidates for these prizes. UNESCO members also nominate some worthy candidates.

Hopefully, Pakistani organizations or people will one day get these prizes. Because many of us are fighting in the support of press freedom and giving media professionals their legal rights. So, pay attention to the freedom of press because it will help in making accountable and transparent institutions at every level for the continued progress of Pakistan. Keep on visiting our website for latest news and so much more.

Related News
---