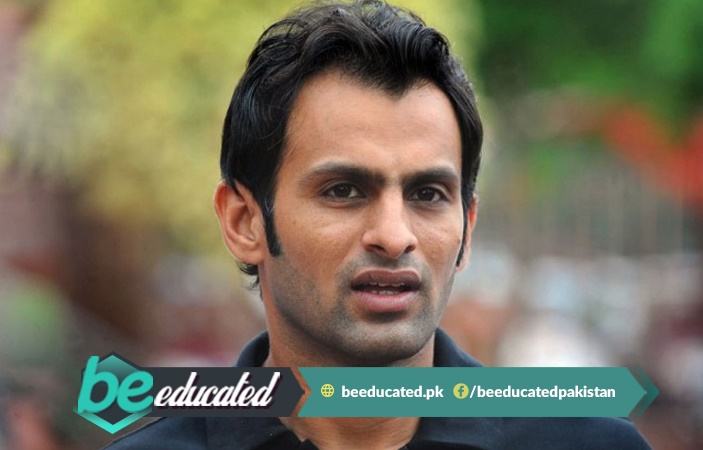 Pakistan cricket team's Star All-rounder Shoaib Malik has become the third batsman to score 2000 runs in T20 internationals. According to news reports, Malik has a scored a total of 2026 runs and so far he has made 7 half centuries in T20 matches.

Malik Becomes the first Pakistani Batsman to Score 2000 Runs in International T20 Matches

BeEducated.pk has found out that Shoaib Malik made this new record while playing against Zimbabwe cricket team. Where he remained not out at 37 runs and overall scoring 2026 runs in T20 international matches. Thus, Malik has become the Pakistan's first and world's third batsman to score two thousand runs in T20 internationals.

The match against Zimbabwe in T20I Tri Series went in Pakistan's favour, as the green shirts won it by 74 runs. At the start Zimbabwe won the toss and invited Pakistan team to bat first. Due to which the green shirts put up a target of 183 runs.

While the opponent team was only able to score 108 runs, giving Pakistan Cricket team an easy victory. During the first inning, Pakistani batsman Fakhar Zaman scored 61 runs and got out, after which Shoaib Malik and Asif Ali took the charge.

It was in this time Shoaib Malik made 37 runs in the current match to bring up his total runs to 2026 and make the new record in T20 cricket.

Top Two Scorers in Twenty-Twenty Internationals

The top scorer in T20 cricket belongs to New Zealand, a famous batsman named Martin Guptill, who has scored 2271 runs so far. While the second batsman to score more than 2000 runs is Brendon McCullum, also a New Zealander, who has made 2140 runs until now.

If Shoaib Malik keeps on scoring more runs through the T20I Tri-Series then he can try to overcome the two players from the New Zealand team, but it will not be easy. Keep on visiting our website for latest news regarding education, sports and so much more.
Related News
---