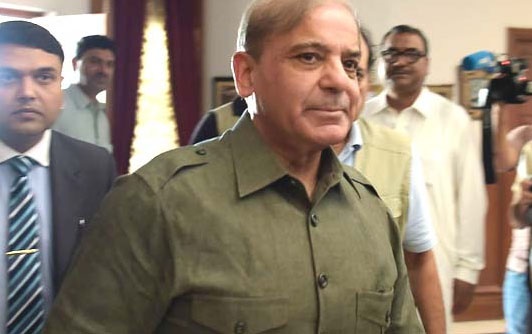 PML-N Leader Shabaz Sharif has been shifted back to National Accountability Beauru (NAB) cell after two hours long medical checkup at Fatima Jinnah Medical University, situated in Lahore.
Different Medical Test Done During Shahbaz Sharif's Checkup
The opposition leader was taken to Fatima Jinnah Medical University for medical checkup under strict security. A team made up of 9 doctors along with the Vice Chancellor (VC) of Fatima Jinnah Medical University Dr. Amir Zaman examined Shahbaz Sharif.

Urdu News: White house Confirms Trump Contacting Imran Khan through a Letter


NAB only arranged for 7 doctors while the other 2 doctors were Shahbaz Sharif's own personal physicians.

Medical tests like blood test, SNAC test and ECG test were done for Shahbaz Sharif along with a detailed inspection of his medical history.
PML-N Spokesperson Ataullah Tarar's Statement
While talking to media PML-N Spokesman said that some medical tests of Shahbaz Sharif were not cleared initially while a physical examination was also performed. The board of doctors will discuss the matter after his reports return from the lab and then relay the facts related to his checkup.

Urdu News: Jahangir Tareen's Protocol Exceeds Even Various Minister's Security

He further said that the medical team couldn't carry out his medical check-up until it was already one week late. He was of the opinion that Shahbaz Sharif health problems are not being taken seriously as he is already suffering from cancer.
Doctors that Performed the Checkup
Head of Oncology Dr. Muhammad Akram, Head of Pathology Professor Dr. Farukh Kamal, Head of Radiology Prof. Dr. Shahzad Karim Khawaja, Head of Medicine Prof. Dr. Balqees Shabbir, Endocrinologist Dr Muhammad Adnan Hashim among others. In the end, remember to visit our platform regularly to read further updates on Shahbaz Sharif's health condition and much more.
Related News
---