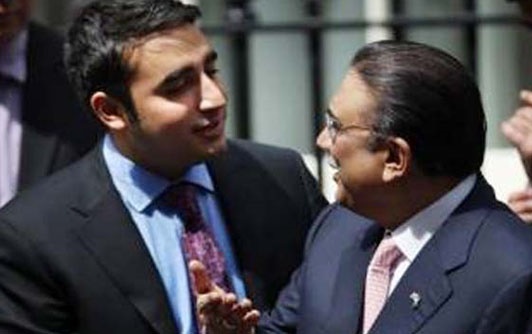 National Accountability Bureau (NAB) has called former president of Pakistan Asif Ali Zardari, and Chairman Pakistan People's Party (PPP) Bilawal Bhutto Zardari, for Park Lane Company case (on 13 December) to answer questions related to the case in court. They will have to answer the queries related to the case under the ongoing inquiry against them on alleged illegal allocation of forest department land to the company M/s Park Lane Estate.
Zardari to Attend National Assembly Session Before Hearing
Former president is going to attend the session of National Assembly that starts today (Monday), after arriving in Islamabad on 12 December. NAB officials have said that Park Lane is a joint company of Asif Ali Zardari, Bilawal Bhutto Zardari and few other shareholders.

Also Read: US Agrees to PTI's Policies on Afghanistan


History of Land Purchased by the Company
Company purchased 2500 kanals land in the vicinity of Sangjani in March 2009. This land was purchased for only Rs 2 billion according to CDA price. This land was associated with former president of Pakistan in 1997 then it was taken by Government due to lack of evidence. Asif Zardari was accused in 1997 after a complex legal processes to have gained ownership of the land illegally.

Another person was believed to be closely associated to former president Asif Ali Zardari. Original purchaser of land was Nasir Khan, alleged to be the front man of former president in this case in 1997. According to The News in 2009, this land was purchased for only 6 crore 20 lakhs whereas this land's actual worth was Rs 2 billion.

Read More: Putting Sin Tax on Soft Drinks Is Unacceptable to Pakistanis

In 1997 NAB initiated a case against Asif Ali Zardari and FIA also arrested some people that were involved in this case. A polo ground and a horse riding pavilion was constructed over the land, which was only 25 minutes away from Islamabad. Some residents there Sardar Ishaque, Mehboob Elahi and Haji Bashir told that they were the real owners of land and they were forced to sell their land at very low price in 1994 because Zardari wanted to make a polo ground in Sangjani. Finally for more political news and updates keep visiting our website as much as possible.
Related News
---