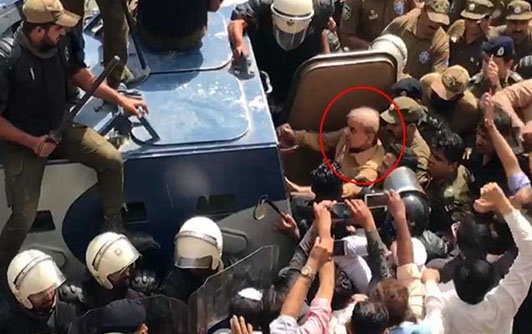 Former Chief Minister Punjab Shahbaz Sharif was presented in court for Ashiyana Housing Scheme hearing. While National Accountability Court (NAB) transferred him from his jail cell under strict security. A large number of PML (N) workers were also gathered outside of the court house to protest against his arrest.
Clashes among PML-N Workers and Policemen
PML-N workers raised slogans against current Government during this protest the workers started behaving aggressively and a clash took place between them and the police.

Read More: Shahbaz Sharif Shifted Back to NAB Cell After Medical Checkup


According to news reports, clashes started happening at that time when police removed the barriers. In turn police did a baton charge after which PML-N workers scattered. Turmoil was created due to such circumstances around the NAB court and all shops in the vicinity were closed while many police officers were stationed in the area. Police also arrested many PML-N workers.

The verdict for the case was finally revealed and the NAB court has rejected the application for remand applied from PML-N leaders.
Allegations against Shahbaz Shareef
Many allegations were brought against Shahbaz Sharif on account of Ashiyana Housing Scheme scam. These claims were related to cancellation of benefits of the project that should be given to Chaudhary Latif and sons, the successful bidders of this project. However he awarded these benefits to Lahore Casa Developer that is a proxy group for Paragon city (Pvt. Limited), due to this wrongful act Government cannot account for 193 billion rupees that were wasted.

NAB also alleged Shahbaz Sharif for providing consultancy services to ECSP (Engineering Consultancy Services Punjab) for 192 million rupees whereas Nespak estimated its actual cost at 35 million rupees. For more political news and updates keep visiting our website.
Related News
---