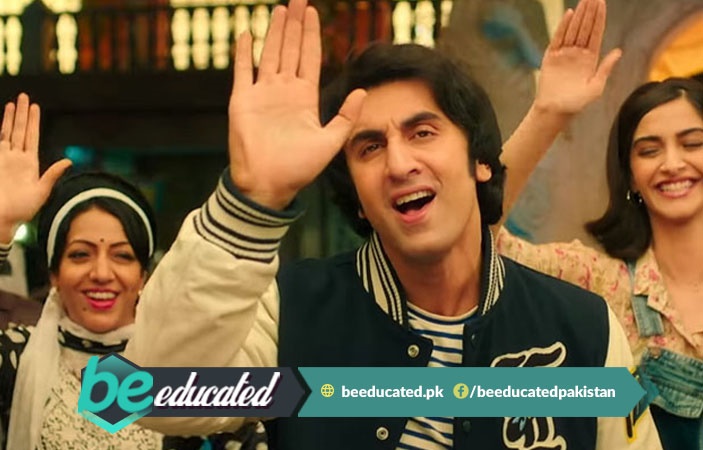 The first song of Sanjay Dutt's biopic 'Sanju', starring Bollywood Hero Ranbir Kapoor, has been released that is titled 'Main Badhiya Tu Bhi Badhiya'.

Everyone's Talking About the Biographical Film

BeEducated.pk found out that people from all over the world are interested in Sanjay Dutt's Biopic. As last month the posters of Sanju were released and they took a hold on people's heart. In its movie posters Ranbir Kapoor looks exactly like Sanjay Dutt, in various aspects of Dutt's life.

The teaser and trailer of the movie were released after the posters. Which ignited a fire of excitement in Sanjay Dutt fans because they just loved the teaser and movie trailers. As Ranbir has shown his acting talents and presented the role of Sanjay Dutt in a beautiful manner.

As to add oil to the burning fire, a movie song has also been released for the fans, who are eagerly waiting for the movie to be shown in cinemas near them.

According to the Indian News Reporters, the Chocolaty Hero Rabir Kapoor's Co-star Sonam Kapoor said in a post on social networking website Twitter, "I am currently listening to Ranbir's song 'Main Badhiya Tu Bhi Badhiya' in which Ranbir and I have tried to bring the 80s romance together."

Rajkumar Hirani, director of Sanju, also tweeted about the song in which he said, "We will also see Ranbir Kapoor singing the song in a female voice."

Ban on Foreign Movies On Eid in Pakistan

So far, it has been confirmed that the film made on Sanjay Dutt's life will be released worldwide on June 29. In which Ranbir Kapoor will be playing Sanjay Dutt and he will be joined with a star cast of Manisha Koirala, Sonam Kapoor, Anushka Sharma, and Dia Mirza.

However, Will Sanju be shown in cinemas of Pakistan? This question cannot be answered clearly due to the ban on Indian movies until two weeks after Eid ul Fitr in our country. Pakistani fans of Sanjay Dutt might feel sad if they cannot catch his biopic but they should support the decision of the government for the revival of Pakistani films and film industry. For more news and updates keep on visiting our platform on daily basis.

Related News
---