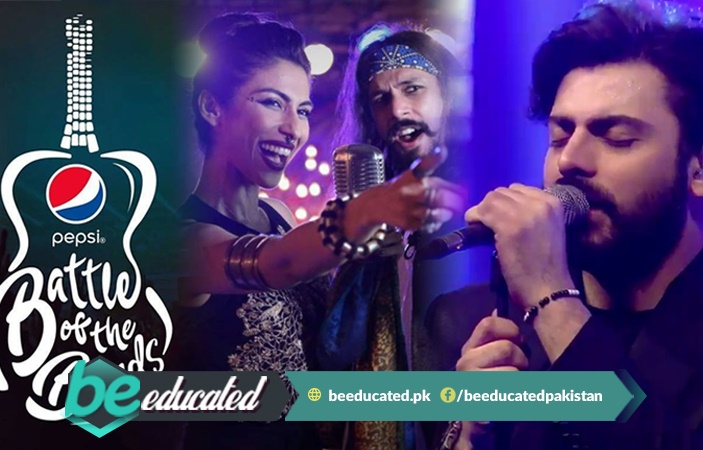 Pepsi Battle of the Bands returns with new bands and new changes after a year with its third season.

Strings Band to Judge Pepsi Battle of Bands Season 3

This time there will be four judges, with Meesha Shafi and Fawad Khan returning from the previous season. While Strings (Bilal Maqsood and Faisal Kapadia) are joining as co-judges. The group has replaced Ali Zafar, due to allegations of sexual harassment and misconduct surfaced against him but Pepsi Battle of the Bands' team has not made any official statement.

Farooq Ahmed will be making a comeback as a guest judge, while Shahi Hassan, who joined the judges last year after the audition, will also be seen as a co-judge. This time Pepsi Battle of the Bands will be produced by Faisal Rafi.

In the First Episode, Fawad Khan will sing along the former wining band Kashmir on 'Kaghaz Ka Jahaz' and afterwards Meesha Shafi joins Badnaam on a new rendition of song 'Kala Jora'. Last but not the least Strings will make their presence on 'Hai Koi Hum Jaisa'. After this all artists will unite for the final sequence.

400 Bands Are Auditioning For the Show

The official announcement of the third season was made through an event in Lahore that was attended by media representatives, Pepsi representatives, a number of artists and well known people of Pakistan. Bands who took part in the last season also made it to the event in Lahore, including Jasim Haider and the Pindi Boys, Madlock, Kashmir and Badnaam.

The third season in which more than 400 bands have applied, the event will be aired from July 14, which is scheduled to be played every Sunday.

As for the third season, it remains to be seen who will be performing on the show but people does expect to see the judges in performance mode like last year when Meesha Shafi sang the song, 'Speaker Phaar' and Fawad Khan reunites with EP to perform their famous sound track, 'Hamesha'.

Shahi Hasan also performed during the finale episode and paid tribute to the late Junaid Jamshed with a tremendous performance. Aaroh, Zeb Bangash, Ali Azmat, Call the band were some of the other artists who made an appearance on Pepsi last year. For more entertainment news keep visiting our platform regularly.

Related News
---