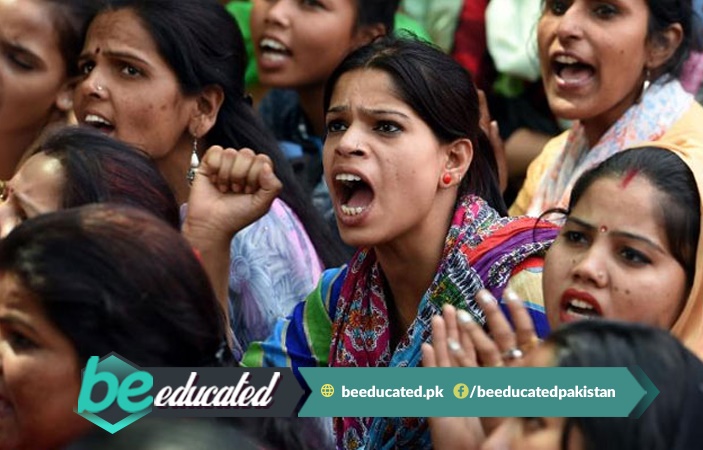 India has been declared the most dangerous country for women due to sexual abuse and forced labor among women living there.

BeEducated.pk found out that Thomson Reuters Foundation, a Canadian global information and news network, conducted a survey in which it questioned various types of threats related to women including sexual violence, harassment, mental and domestic violence.

The survey took place between March 26 and May 4, questioning more than 500 experts on women's issues around the globe including NGO workers, health workers, academics and policy makers.

Pakistan Stands at Number Six in the List

According to the survey list, India is ranked first in women sexual abuse, harassment and violence. Whereas Afghanistan is ranked second, Syria is third, Somalia is ranked at number four and Pakistan is sixth.

Among the western countries, the United States is the only country involved in top ten most dangerous countries for women in the world. Making United States the most unsafe place for women in the western world.

Experts say that India coming on the first number in the list shows that the country is not taking proper measures to protect women. Experts added that the survey was felt after the 'Me Too' campaign, because during the campaign thousands of women brought their sexual abuse and harassment cases into the light.

India Fails to Protect its Women

Talking about India, the Foundation said, "The world's second most populated nation, with 1.3 billion people, ranked as the most dangerous (country for women) on these topic of questions— the risk of sexual harassment and violence against women, the danger women face from traditional, tribal and cultural practices, and the country where women are most likely to become victims of human trafficking including sex slavery, forced labour and dometic violence."

Indian government has been working on campaigns like "Beti Bachao, Beti Padhao" (Save Girls, Educate Girls). Still according to National Crime Records Bureau, cases of crime against women including sexual assault, rape, acid attacks and dowry deaths have risen almost 40% between 2012 and 2016.

Though India is becoming more stable economically and have a booming market for various international software companies. Still for almost half of its population, which are women, it has been declared the worst country to live in. Finally, to get more news and updates keep visiting our website as much as possible.
Related News
---