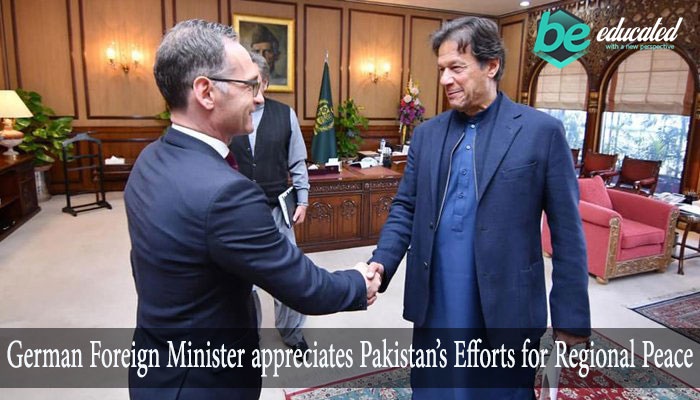 In Islamabad, Heiko Mass German Foreign Minister Tuesday while appreciating Efforts for the peace and stability of region. Prime Minister Imran Khans mature decision on handling such situation, particularly on releasing Indian Pilot.
The visiting German Foreign Minister, the decision of Prime Minister Imran Khan to let go the Indian Pilot had been noted positively by the international community. He said in a meeting with Prime Minister Imran Khan.
Welcoming the Foreign Minister of Germany, The PM Imran Khan said that Pakistan added high importance to its relations with Germany, which were characterized by shared democratic values and multi faced cooperation.
He praised the leadership of German Chancellor Angela Market particularly her handling if the immigration crisis. The PM apprised the German Chancellor on going situation between India and Afghanistan as well as the steps taken by his government towards de-escalation.
He stressed upon the international community to take notice on the Kashmir, and grave human rights violation. On bilateral ties, the prime minister welcomed German investors and automobile sectors of Pakistan. Terming Germany as an important development partner, The PM welcomed Germany in sectors related to human development, especially education and health.
The German Foreign Minister underscored Pakistan's key role towards peaceful settlement with Afghanistan. He reiterated German Chancellor Invitation to Prime Minister Imran Khan to visit Germany.
Related News
---