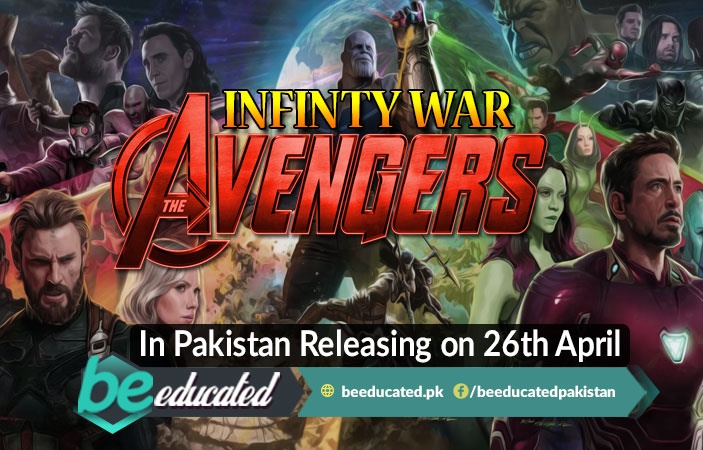 Yes! Avengers Infinity War is releasing Nation Wide this weekend on April 26. The latest part from Marvel Studios includes more superheroes than cinema has ever seen in one movie, and promises to tie together ten years of storytelling. Without giving anything away, the climax will blow away the minds of Marvel fans and no one will leave before watching the traditional teaser at the very end, which tells what's more to come in the next part of the movie franchise.

BeEducated.pk brings you this latest entertainment news because we know everybody is trying to get a tickets to watch the latest Avenger's Movie. We will bring you various entertainment, sports, and educational news. So, keep checking our website to read latest news and much more.

PLOT SUMMARY

A cinematic journey that started ten years ago, Marvel Studios' "Avengers: Infinity War" brings to screens near you the ultimate and deadliest showdown of all time. The Avengers and their Super Hero allies must be willing to sacrifice all in an attempt to defeat the powerful Thanos (Villain) before his evil plan of putting an end to the universe succeeds.

CRITIC REVIEWS FOR AVENGERS: INFINITY WAR

Ten years ago this month, the Marvel universe was launched with the fresh, lively, relatively easygoing "Iron Man."
The Marvel Cinematic Universe's Avengers Infinity War is its biggest, most ambitious piece of storytelling in the studio's 10 years of existence and the minute you exit the theatre, you'll be lining up at the box office to buy another ticket. It's that good.

It looked like the movie will not live up to the expectations of its fans and a reported $300 Million budget, but it was worth watching because of cool action or battle scenes and an amazing ending.

CAST AND RELEASE DATES

The films releases on April 26 and stars Robert Downey Jr, Josh Brolin, Chris Hemsworth, Chris Evans, Mark Ruffalo, Scarlett Johansson, Jeremy Renner, Samuel L Jackson, Chris Pratt, Zoe Saldana, Dave Bautista, Bradley Cooper, Vin Diesel, Don Cheadle, Anthony Mackie, Sebastian Stan, Paul Bettany, Elizabeth Olsen, Tom Holland, Benedict Cumberbatch, Paul Rudd and Tom Hiddleston. These stars are playing so many super hero characters that it will be hard to count them all.

Related News
---