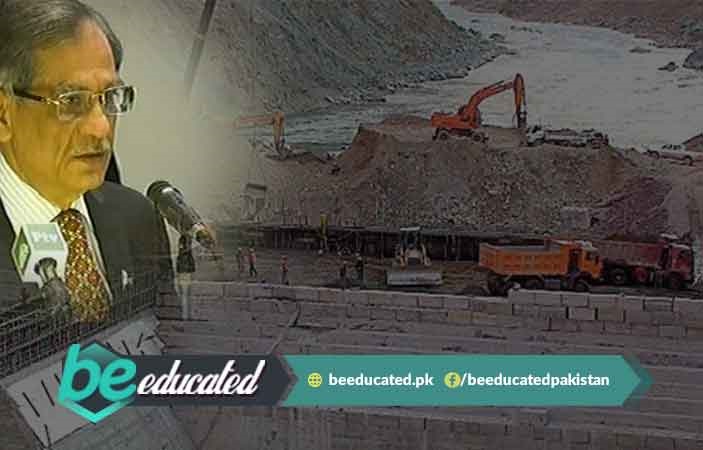 The Supreme Court (SC) of Pakistan has directed the government to construct two dams immediately. According to news reports, (on Wednesday 4 July) SC ordered immediate construction of Mohmand and Bhasha Dams to overcome the shortage of water all over the country.

CJP Remarked "A New Dam Should Be Built Every 10 Years"

BeEducated.pk wants you to know that Chief Justice wanted to see construction of dams in Pakistan. So, in a suo motu case hearing the court has finally ordered to build two new dams. As Bhasha and Mohmand dams are not controversial like the Kalabagh Dam issue, and the Council of Common Interest do not have anything against their construction.

At one point during the hearing CJP questioned, "How much water are we wasting?" To which the Ministry of Water and Power (MOWP) replied that water worth billions of rupees is being wasted. Further explaining that we waste about 90 million acre-feet water in a single year.

According to the MOWP, 1 million acre-feet water costs around 500 million dollars.

CJP Accepts the Option to Raise Construction Funds from Loan Defaulters' Money

As the hearing proceeded, it was revealed that the construction of dams is not the Government's priority, which is why in the recent years new dams have not being constructed in Pakistan. Thus Supreme Court ordered the amount, gathered from claiming bad debts, to be spend on dams' construction to overcome the current water crisis in the country.

The court has given more than 200 loan defaulters until July 17 to return their borrowed money, or else they will have to face the consequences.
In the last hearing, the court ruled the loan defaulters either to pay 75 percent of the principal amount they borrowed from the National Bank or face trials at banking courts. CJP warned the loan defaulters that if they don't pay what they owe then they will be called to the banking courts.

Among the 222 individuals and companies allegedly owe a total of Rs. 54 Billion in debt to the National Bank.

Meanwhile, SC has asked the former presidents Asif Ali Zardari and Pervaiz Musharraf to provide details of their assets until 7 August, in case to reveal corruption and misappropriation of public money. Chief Justice of Pakistan Mian Saqib Nisar has said that the court will unveil the corruption and nobody will be forgiven for their crimes. For more news and updates keep visiting BeEducated.pk as much as possible.

Related News
---