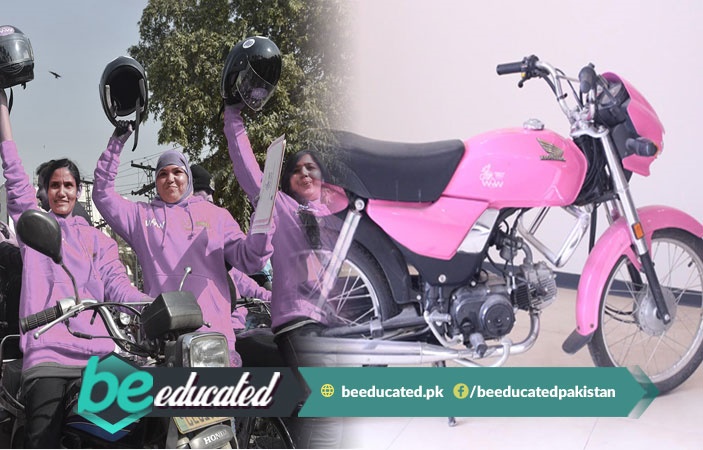 The first shipment of Pink Motorcycles have reached Lahore for free distribution among women under the Women on Wheel program. Girls or women, who have completed their training for riding motorbikes, will receive their motorcycles on 13 May 2018.

Women Empowerment and Protection

BeEducated.pk have found out through sources that Chief Minister of Strategic and Reforms unit will be distributing 3 thousand motorcycles among women to empower them. In the first phase, the specially designed Honda's 700 pink motorbikes will be given to women on Sunday (May 13).

In his interview with Express, Head of Punjab Strategic Reform Mr. Salman Sufi said that the women will receive 700 motorcycles in first phase then in second phase women will get 1000 bikes and in the last and third phase 1300 motorbikes will be distributed among the women.

Salman Sufi also talked about how the provincial government has provided 80 million rupees for this Women on Wheel project. He also said that this project will help working women to get to their offices without depending on other people or transportation facilities. This step will make women more self-dependent and make them feel more secure.

Pakistani Women are Working Shoulder to Shoulder With Men

Recently, we posted the news regarding Azka Qaiser one of the Pakistani developer duo to win 2nd place in Facebook's F8 Hackathon. She is the best example of Pakistani women working alongside men and getting successful in their field. That's not all, Dania Hassan has become the youngest Pakistani girl to receive Emerging Young Leaders Award for her contribution in the educational sector.

All these high achieving Pakistani girls and women are proving to the world that they are very capable and can help people not only in Pakistan but all over the globe. Hopefully, more girls will get quality education so they can join the workforce to make Pakistan one of the most developed countries of this world. For latest educational news keep on visiting our website regularly.

Related News
---