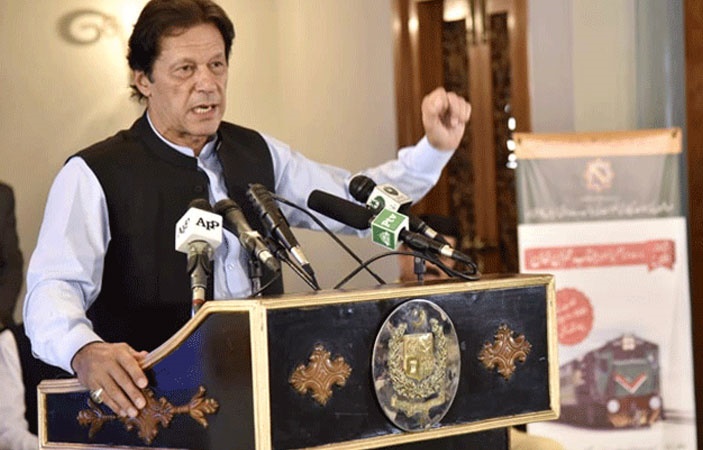 Prime Minister Imran Khan says that ever since the formation of Pakistan, many of our leaders have enjoyed their lives at the cost of common people's money in the country, but now we have to change ourselves to get rid of the national debt.
PM Addresses Bureaucrats at Inauguration Event
While addressing the inauguration ceremony of the Mianwali railway car in Islamabad, Prime Minister Imran Khan said that in Pakistan, the richer keeps on getting rich and the poor gets poorer. Political leaders only thought about themselves and their families but did not do anything to give relief to the common man.

Also Read: Supreme Court Offers Latest Government Jobs to Transgenders


BeEducated.pk wants you to know that PM said that there is no improvement in the railway, as trains are used by the lower class of the country. We have been using the same tracks that the British left us and Pakistan has only added an extra 600-kilometer track in 70 years of its independence, while in many places we have removed the tracks.

The Prime Minister said that all the facilities are for the rich, but now we will change that course. The government will take steps to improve common people's lives and for people, over 65 years of age, can buy train tickets at half price already. He also said that our loans can be repaid by selling the railway land in Karachi.

Speaking to the government employees earlier, Prime Minister Imran Khan said that we have to change ourselves, if we do not change ourselves, Allah will not change our circumstances. He said we are still living with a mindset of British slaves as we did not change the English system in Pakistan until now. The English people created a lavish lifestyle on the money of poor natives of sub-continent. Similarly, our ruling class also adopted the traditions of the British and spent the common people's money.

Read News: PIA Bids Farewell to Old American Reservation System

Imran Khan said that there is no other place in the world that spends money like our leaders did over the past years, we have started projects for which we had to take loans. He named the orange and metro train projects for which we have incurred huge load and today we are under 30 billion rupees debt, while we are paying 6 billion rupees of interest per day on these debts.
Prime Minister Wants Change in the Country
The Prime Minister said Pakistan had never faced such challenges that its facing today, but I believe that nothing in the world is impossible, to do the impossible we just have to change ourselves. We should change the thinking we adopted under the British rule. So the people and bureaucracy have to change themselves to repay our country's loans.

Imran Khan said that the root of all problems we are facing is corruption, our institutions have been destroyed to steal money. He added that all third world countries are poor because corruption can be found in abundance there. Similarly, due to bad governance people do no invest in Pakistan, so if we fix the governance structure then the nation will see rapid progress and development.

More News: Kulsoom Nawaz's Dead Body Arrives at Lahore Airport

The Prime Minister told the bureaucrats, I do not care which political parties you belong to, I'm only concerned you're your work. Some people are scared but there is no need to worry. He said I assure you that I will stand beside you but you have to take this chance, we will protect bureaucracy and avoid political interference. He added no man is free of mistakes, I have made some mistakes so bureaucrats might have made some as well.



Imran Khan said that if the bureaucrats do not cooperate with us then our reform program will definitely fail. Unless government officials do not implement the policy, we cannot succeed. So PM Imran asked everyone to bear with him during this hard time as it does not last for long. He also promised that after 2 years government will pay handsome salaries to all government employees. For more political news keep visiting BeEducated.pk on daily basis.
Related News
---