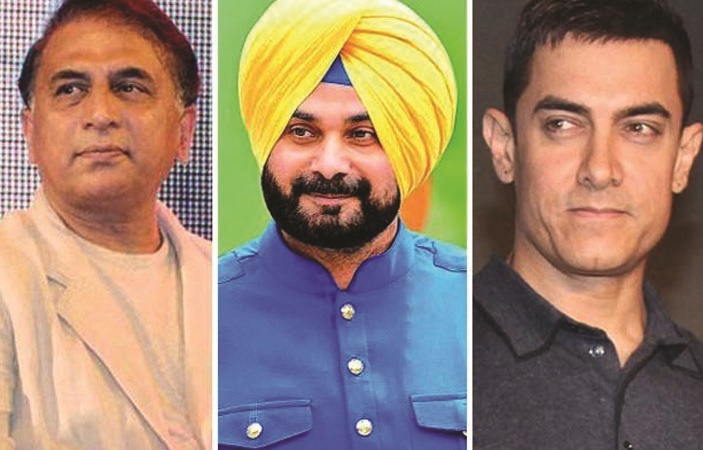 In Islamabad, Pakistan Tehreek-e-Insaf Chief Imran Khan will take oath of the Prime Minister on the day of Independence 14 August. In order to participate, Aamir Khan, Sunil Gavaskar, Navjot Singh Sidhu has been sent an invitation.

Also Review : Celebrities​ Congratulates Imran Khan On His Victory

Tehreek-e-Insaf's spokesperson Fawad Chaudhry confirms sending an invitation to Indian cricketers and actors, he said In order to participate in Prime Minister's oath-taking ceremony, Bollywood star Amir Khan, Legendary cricketer Sunil Gavaskar, Navjot Singh Sidhu has been invited.
Many other important personalities have been invited from other countries. Imran Khan's Pakistan Tehreek-e-Insaf is the single largest party in national assembly after the general election of 2018.
Celebrities Reactions on Invitation
Mr Sidhu accepted the invitation, calling Imran Khan "a man of character". "It is a great honour and I accept the invitation. Men of genius are admired, men of power are feared but men of character are trusted. Khan Sahab is a man of character. He can be trusted," said Mr Sidhu, also a cricketer-turned-politician like Navjot Singh Sidhu.
Aamir Khan Reveals whether He is coming to Pakistan or not?
Aamir Khan said, in a tweet, that he has not received an invitation from Imran Khan. A few days back, Ali Zafar also tweeted and asked Aamir to complete his promise and come to Pakistan.
BeEducated.pk
wants you to know that, Imran Khan is considering the Prime Minister's oath ceremony to be grand, thinks on inviting heads of all the SAARC countries including Indian Prime Minister Narendra Modi, but its final decision is to be done by the Foreign Office.
Related News
---