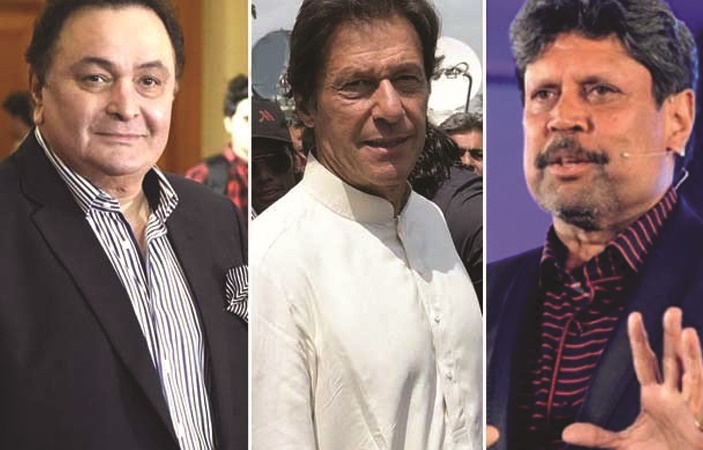 The Pakistan Tehreek-e-Insaf (PTI) chief Imran Khan is being congratulated by Indian celebrities along with Pakistani artists on the success of PTI in the General Elections 2018.

PTI chairman Imran Khan is famous not only in Pakistan but the whole word for his attractive personality and outstanding achievements in the game of cricket, even famous Indian artist are also his fans, who are highly appreciative of his passion.

BeEducated.pk wants to tell you even Imran Khan's ex-wife Jemima congratulated him on winning the Elections 2018 as well.
Indian Celebrities & Fans Congratulate Imran Khan on His Victory
Imran Khan's Indian fans include the likes of Kapil Dev and Rishi Kapoor, who expressed good wishes for Imran Khan on becoming the next prime minister of Pakistan.
Former Indian captain Kapil Dev and Imran Khan have played cricket many times in the past, so Kapil Dev knows Imran Khan very well. Recently, during a Talk show when Kapil Dev was asked about Imran Khan, he said that first he wanted to congratulate him on becoming Pakistan's next Prime Minister. Later, he praised Imran Khan saying that he was filled with passion back when he was a captain and Imran Khan is still the same today.
He said, "It's a big deal that a player becomes the Prime Minister of a country." During the show, the host often tried to force Kapil Dev to say bad things about him but he only praised Imran Khan every time and told the host, "I am a very positive person, if someone wants to talk bad about Imran Khan then they can but I have seen him up close and he is one of the best people I know."
Kapil Dev hopes that Pak-India game conflicts will be resolved now that Imran Khan is going to become the PM. Apart from this he said, "Imran Khan has the ability to make Pakistan shine brightly in the world's eye and he will lead his country towards its betterment."
Imran Khan Responsible For Maintaining Peace in the Subcontinent
Through his twitter, Actor Rishi Kapoor also praised Imran Khan's victory speech after elections and hoped that he will succeed in improving Pakistan's relations with India. Indian actor Ayushman Khurana also expressed his views on twitter about Imran Khan becoming the next PM. He shared his father's remarks after he listened to the Pakistani captain's victory speech at the 1992 Cricket World Cup. Actor Javed Jaffrey also congratulated Imran Khan and praised him, saying that he is a great player and a diligent social worker. Javed Jaffery continued that he thinks the former captain is going to be a wise leader, who can benefit Pakistan and Indo-Pak relations. Many other celebrities around the world are congratulating the former captain on his great achievement, and wishing him good luck in fulfilling his responsibilities. For more
news on politics
, entertainment or education keep visiting our website daily.
Related News
---