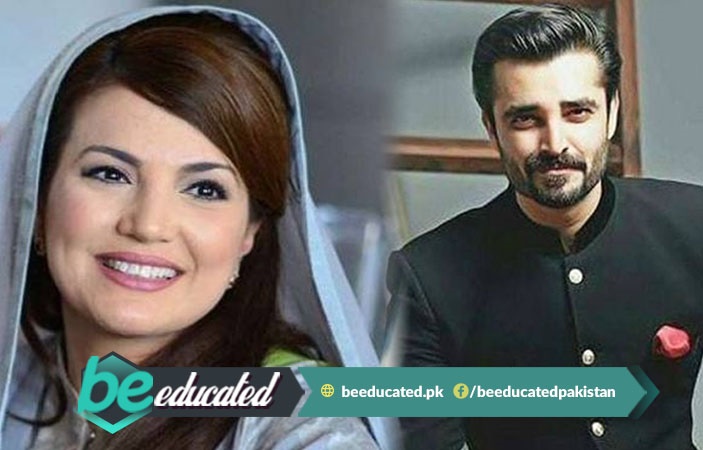 On Monday June 4, Reham Khan sent a legal notice to Hamza Ali Abbasi for defaming her on various media outlets. According to news reports, Reham Khan has filed Rs 5 Billion defamation notice against the actor and PTI supporter Hamza Ali Abbasi. As the actor has been spreading and broadcasting different statements online, and on TV, claiming Reham to be on an agenda against Imran Khan, who recently laid out his 11 points. Also, Abbasi has accused Reham Khan for receiving £100,000 (British Pounds) from Shahbaz Sharif.

Reham Khan Refers Hamza Ali Abbasi as a Child and a Thief

BeEducated.pk has found out that on June 1, Abbasi wrote in one of his tweets, "Had a very unfortunate experience of reading a manuscript of Reham Khan's book." He further explained his opinion of the book as a conspiracy against Imran Khan because he wrote, "the summary: IK is the most evil man to walk the face of this planet. Reham is the most pious and righteous woman" – "and Shehbaz Sharif is an amazing guy!"

In reply to his tweet, Reham Khan wondered how it was possible for Abassi to read her book's manuscript before it's been published. That's why she tweeted: "(It's) only possible through fraud or theft." Which clearly claims that Abassi is a thief for stealing her manuscript.

Reham Khan has also alleged Hamza Ali Abbasi for threatening her since August, 2017. She has claimed to receive emails from Abassi warning her from not revealing anything damaging towards Imran Khan. According to news reports, she has also called the actor 'a child' who is being used by other people for defaming her.



Wasim Akram, Her Ex-Husband and Other People Send Notices to Reham Khan

Hamza Ali Abbasi isn't the only one who received a legal notice because Reham Khan is also beign showered with notices from Wasim Akram, Her Ex-Husband, a businessman Zulfikar Bukhari and PTI International Media Coordinator Ms. Anila Khwaja among many others.

Acording to these people, Reham Khan's book contains false and defaming content about their personal and professional lives. On which Khan has replied with, "It is my right to write whatever I want" – "Why should I reveal beforehand what I have written in my book?" So, for more news and update on the matter keep on visiting our website.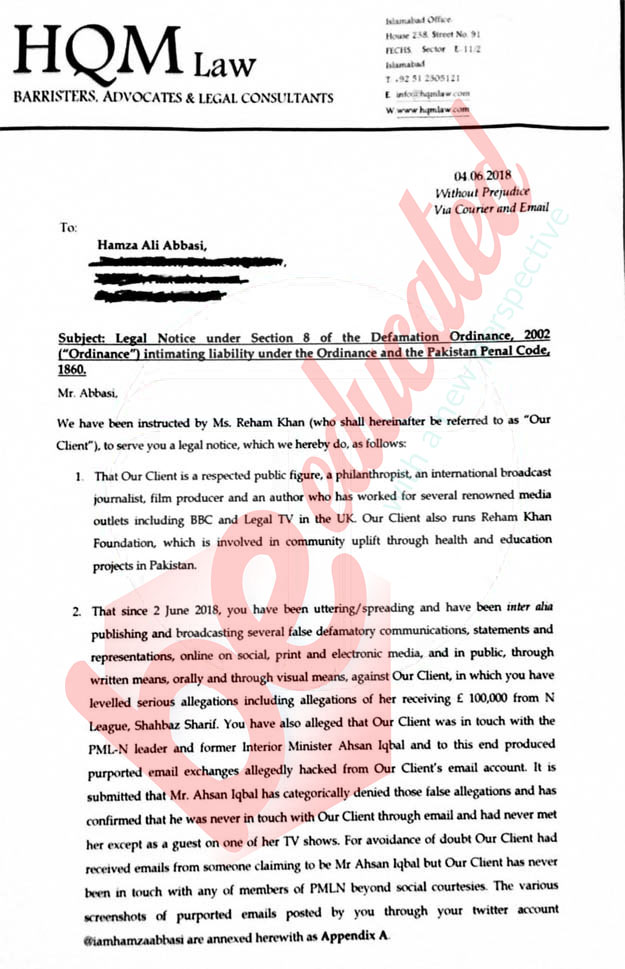 Related News
---