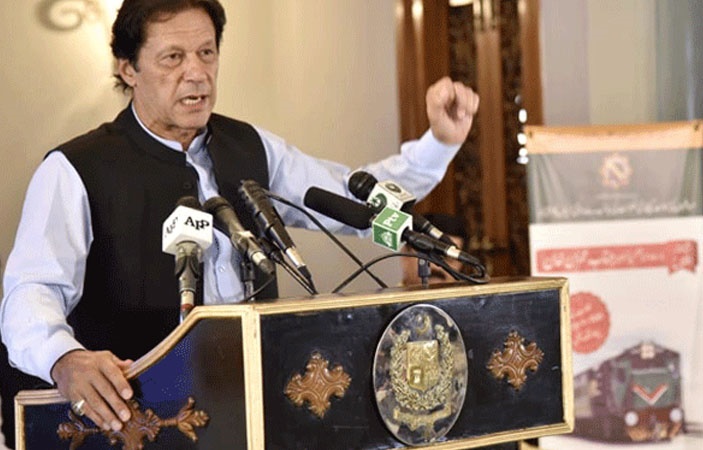 Prime Minister Imran Khan says that it will be too late if efforts are not made to construct dams in the country right now and Pakistan will not progress unless Karachi becomes a much more developed city.

Addressing the function of Bhasha Dam funds in the Governor House (Karachi), the Prime Minister said that everyone knew how important the dams were for the country, but nobody paid attention to the matter.

BeEducated.pk wants you to know that PM Imran khan also announced important development projects for Karachi.

Most Water Projects Were Completed Under Ayub Khan
Prime Minister Imran Khan said that there are 84,000 total dams in China among which five thousand dams are large. However, there are only two major dams in Pakistan and making dams is inevitable for the coutry. He said that the most of the work on water projects was done in Ayub Khan's era other than him no one else thought about energy projects in Pakistan's history.

Also Read: PM Imran Khan Promises Huge Salaries to Bureaucrats

The Prime Minister said that the government does not have the money to make dams, and that is why we are collecting funds. He said that we have kept a five-year target to complete the Bhasha dam project, after which we will start working on Mohmand Dam.
Karachi's Citizens are Most Politically Conscious
Imran Khan said that Karachi is the city of Tehreek-e-Insaf, it has a great history. While most educated and politically conscious people are living here. This city makes the political agenda of Pakistan and whenever Karachi was left alone it damaged the whole country. He explained that there was a time that we wanted to do politics in Karachi, but feared that if we leave the house, we might not return, but it is not the case anymore.
We Will Work Together with Sindh Government
The Prime Minister said that we want to develop Karachi for the stability of Pakistan and not to gain votes from its people. Because if Karachi is harmed in any way, it will harm the entire nation. So, we will make it the city of lights once again. After taking briefing on the problems of the city, PM ensured that they will work closely with Sindh government to resolve major issues of water and garbage in Karachi.
Street Crimes are Due to Poverty
Imran Khan said that he took a complete briefing on the situation of law and order in Karachi, target killings have been decreased, but street crime is still present in abundance, which is due to poverty and unemployment. He told the media that most people involved in these crimes are from other countries, such as Bangladesh or Afghanistan, who have not received their identity cards. That is why they cannot find jobs in Pakistan, which pushes them to become criminals.

The Prime Minister said I request the Interior Ministry to provide NICs and passports to people who have been living in the country for decades and to their children who were born and brought up here. If you are born in the US, you get nationality there, so why not here? They should be given an identification card and passport, and we should help them in their growth.
Announcement of Sewerage Treatment and Desalination Plants
The Prime Minister announced the establishment of sewerage treatment plant in Korangi and said that the desalination plant will also be formed in Karachi.

He said that circular railways will be provided to people in the city and Northern High Pass will be constructed so the city's traffic can be reduced. Wherever there are empty spaces available we will plant trees, so we can make a greener Karachi.
People's Money will be Spent on their Welfare
The Prime Minister said that there are 534 employees, 80 vehicles and 4 helicopters in the Prime Minister House. He revealed that PKR 70 crores were spent on renovation of Governor house (Murree) in a country where 25 million children do not go to school and children dies due to food shortage.

More News: PM Imran Khan Appeals Overseas Pakistanis to Donate for Building Dams

He asked, "Under such circumstances, whose conscience can allow them to spent money on lavish life style from the public taxes?" The Prime Minister assured that this will not happen anymore and the money will be spent on people's welfare.
Head of Country Brings Change
Imran Khan further said that the change is all about people's mindset and we have to change the minds of the people. People, who ran the country, built and lived in their palaces with our money and used to think of us as their slaves. Such lifestyle is not being adopted by any ruler in any other country. So, change always comes from above. If the head of the country brings change then ministers and bureaucrats will also change, then public will follow the government's example. For more political news keep visiting BeEducated.pk.
Related News
---