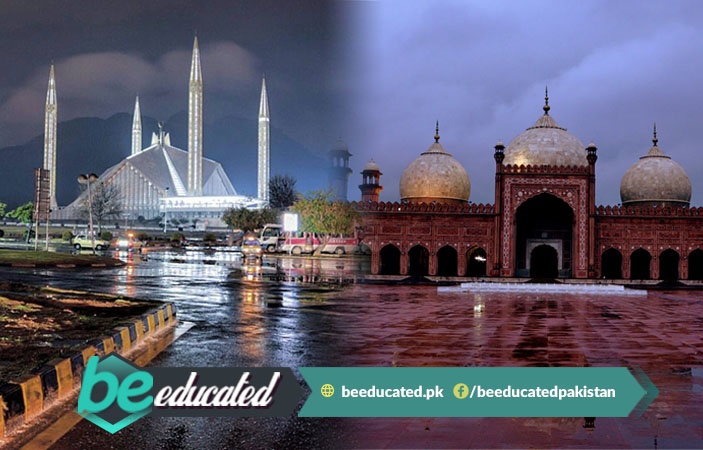 Meteorological department (Met) has predicted that it will rain on Eid days, so the weather will be pleasant all over the country. According to news reports, rain is expected on the first two days of Eid ul Fitr in various parts of Pakistan. After hearing the good news everybody is looking forward to the Eid holidays, which are starting from June 14.

Prediction of Rain in Islamabad and Lahore

BeEducated.pk found out that according to DG Met Dr. Ghulam Rasool weather will remain pleasant throughout the country on Eid-ul-Fitr, while people of Islamabad and Lahore can even expect light rain. On the matter Met Spokeperson Mr. Khalid Malik also said, "Pre-moonsoon rains will start in the third week of June, during Eid ul Fitr holidays, and continue until the end of the month."

Previous week, moderate rain showered on most parts of the country but weather in Sindh and Balochistan remained above 40 degrees centigrade. Now, the weather is becoming hotter every day. That's the reason this weather prediction is good news for many people within the country.



Karachi Will Get No Heat Waves on Eid

DG Met Dr. Rasool told the media that Karachi will have nice weather on all Eid days and people do not have to fear about heat waves in those three days. He also revealed that there is a possibility that temperature will drop down in internal Sindh, south Punjab, and Balochistan by 4 to 5 degrees centigrade.

Pakistan Meteorological Department while predicting rain in Lahore, Islamabad and other northern areas revealed that some parts of the capital city Islamabad, Peshawar, Azad Kashmir, Northern Punjab, and Khyber Pakhtunkhwa can have slight rain showers on Eid.

Eid in Summer Holidays

As many people already know due to the rising temperatures and Ramadan early summer vacations were announced in schools of Punjab, Sindh, Federal areas and other parts of Pakistan. Young students are observing their Ramadan fasts at home, and now they will be celebrating Eid-ul-Fitr without worrying about the limited holidays adults get from work. Everybody is busy shopping for Eid and hoping to have a pleasant weather according to predictions of Met. For more news and updates keep visiting our website on daily basis.

Related News
---