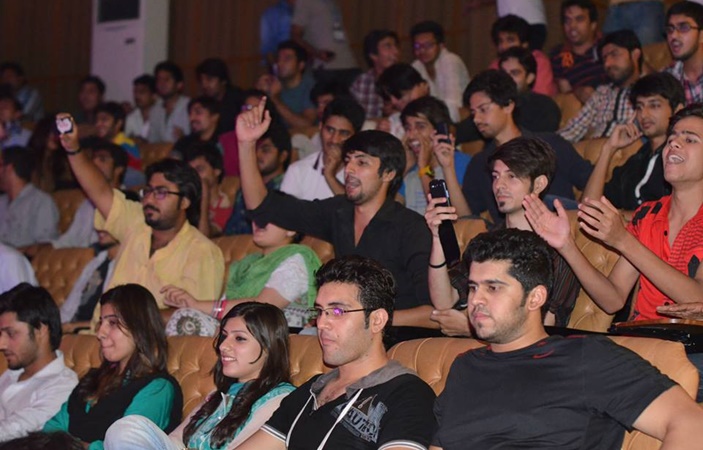 Lahore: University of Central Punjab, School of Media and Communication studies students of BS Hons. fifth semester today arranged a seminar on the very sensitive and significant topic that was "Burhan Wani- The Blood Shed Kashmir Needed" in Seminar Hall of the School under the supervision of their course instructor Mrs. Amber Mubeen.

Well known personalities were invited as guest speakers in this seminar to enlighten the students, teachers and the general audience there on this topic and share their views on it.

Guests included names like senior journalist and analyst Mr. Sajjad Mir currently working in News One media conglomerate, Lt. General retired Ghulam Mustafa who have served in Pakistan Army for a long time and have some dignified achievements and awards as well including Hilal-e-Imtiaz and Tamgha-e-Basalat, and Afifa Faisal producer Khara-Sach Show on Channel 24. The honourable guests were also accompanied by Dean School of Media and Communication Studies, Dr. Mughees ud din Sheikh who at the end of the seminar also presented souvenirs to the guests and thanked them for their presence.

This seminar was the part of a annual project of conducting seminars by students of BS Hons. Fifth semester students before they have done seminars on topics like "Indo-Pak Water Conflict" and "Pak-China-Russia-A new power triangle?", this was the third of the chain and it included Question and Answer session for students to the guests as well. This whole seminar was solely arranged by the students as it was their course activity.

Guests stated few bravery tales of Shaheed Burhan Wani and how his father wanted him to die fighting for their rights. They also encouraged students to read more and more about the history and present situation of our region to get clear point of view of the situation. Audience really appreciated the initiative of such fruitful academic activity.
Related News
---